What's Up Art: More Stanley Donwood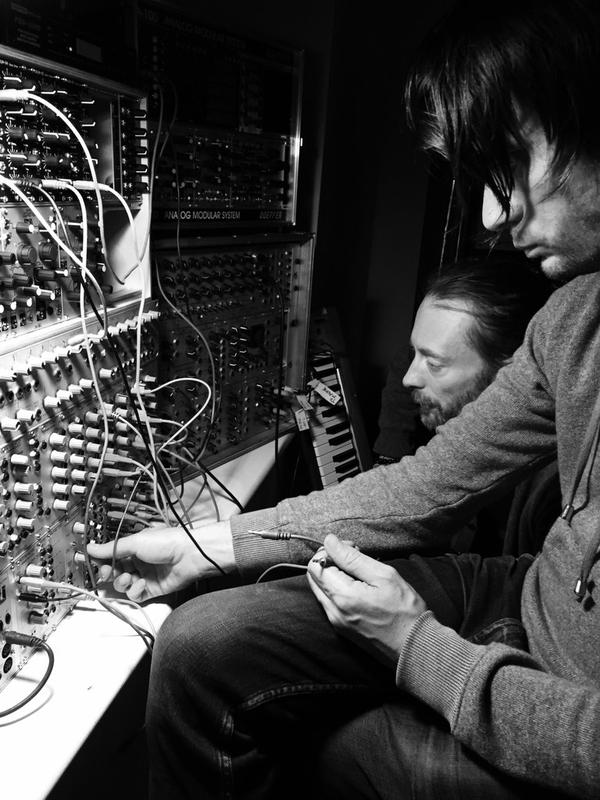 &nbsp
&nbsp
&nbsp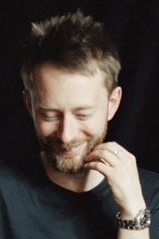 Tomorrow's Modern Boxes, the new release from Thom Yorke, available as a legal Bittorrent in a bid to make music available from artist to listener, without the recording or tech industries taking a big bite. You gotta admit, Thom stands behind what he says about mainstream music platforms not being the right answer for musicians. This is his effort to make a change.
AMOK is a 2013 Atoms for Peace original release. Original artwork by Stanley Donwood.
&nbsp &nbsp &nbsp Atoms for Peace tours AMOK and the Eraser.
&nbsp The painting by Christopher Wool, who worked with text. Untitled (AMOK) 1989, acrylic and resin on aluminum, currently at the San Francisco Museum of Modern Art.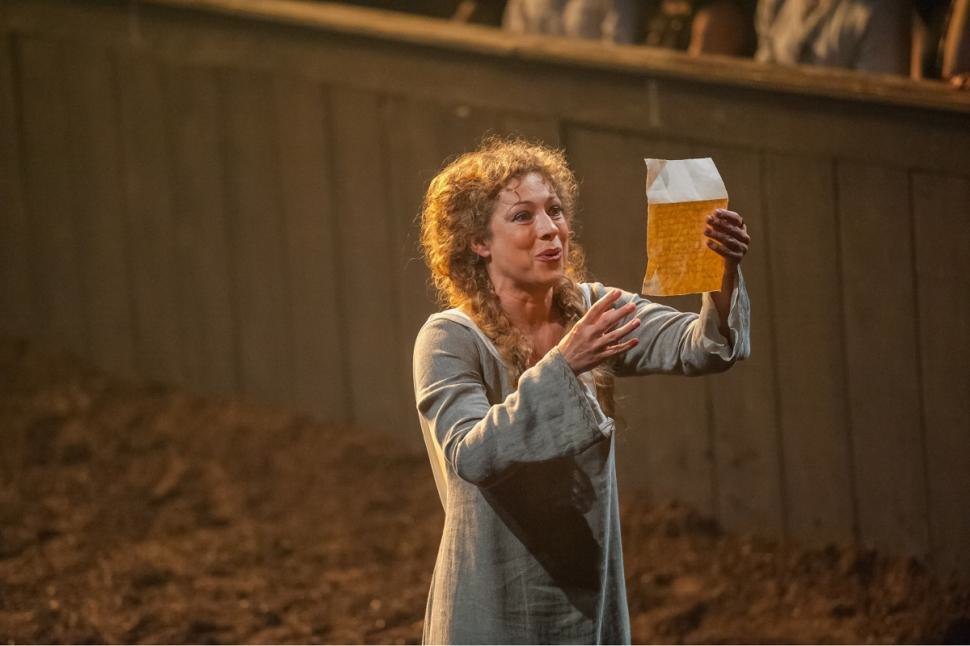 Macbeth Conquers New York: The Park Avenue Armory triumph for Sir Kenneth Branagh.
What's Up Stage Branagh was "born to play Macbeth" in "a thriller diller".
Kenneth Branagh and Rob Ashford co-directed this critically-acclaimed production of Macbeth for the Manchester International Festival in July 2013.
Our review of the sold out stage Macbeth in Manchester, UK is in at What's Up Stage.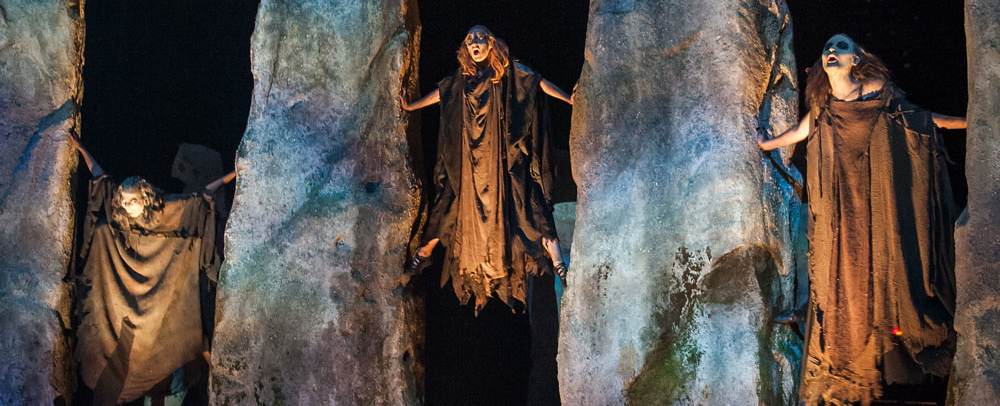 &nbsp New: Sir Kenneth Branagh: Making Macbeth
Macbeth--A short video about the production featuring Ray Fearon who played Macduff in Manchester. Richard Coyle takes that role in New York.
&nbsp 2016 celebrates the 400-year anniversary of William Shakespeare
The Royal Shakespeare Company will bring its productions of Richard II, Henry IV Parts I & II and Henry V to the Barbican this Winter, as the collaboration between the companies extends a further five years. David Tennant, associate artist at the RSC, will reprise his Richard II, and Antony Sher and Jasper Britton will reprise Falstaff and Henry IV respectively in the Henry IV plays. Alex Hassell will play Prince Hal/Henry V.
Gregory Doran, RSC artistic director, said: "We have loved being back at the Barbican and I am thrilled to give London audiences the very first opportunity to see all four History plays together in repertoire." The RSC season, which runs from 7 November to 24 January under the banner King and Country: Shakespeare's Great Cycle of Kings, forms part of the Barbican's program marking 400 years since Shakespeare's death in 2016.
All four RSC history plays will come to the Brooklyn Academy of Music after a tour of China.
To begin the 2016 year-long celebration, here is a reprise of Sir Kenneth Branagh's NPR interview on the most performed play on the planet.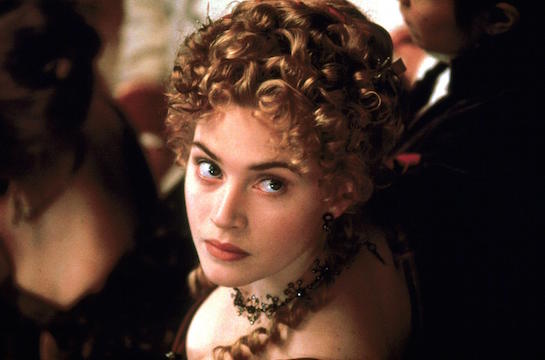 NPR Branagh on Hamlet
National Public Radio, December 1996 Terry Gross, host of Fresh Air
GROSS: Today we have an interview with Kenneth Branagh about his film adaptation of "Hamlet," in which he stars as the prince of Denmark.
Branagh has also directed film adaptations of Shakespeare's "Henry V" and "Much Ado About Nothing" and he co-starred in the recent film of "Othello." His Hamlet features English and American actors: Derek Jacobi as Claudius; Julie Christie as Gertrude: Kate Winslett, Ophelia; Robin Williams, Osric; Jack Lemmon, Marcellus; and Billy Crystal is a gravedigger.
For listeners who've never read Hamlet or seen a production or who have just forgotten, tell us the basic story and in just, you know, plot terms.
BRANAGH: Sure. I'm not sure, you know, that lots of people do know the story of Hamlet, to be perfectly honest. And I certainly approached this film with that in mind. Hamlet is the heir to the Danish throne. His father has died -- poisoned by a serpent in his garden. This happens one month previous to the beginning of the play.
And we meet Hamlet when his mother Gertrude has remarried his uncle. This is one month after his father's death. Hamlet is unhappy about this -- bitterly angry that she should have married so quickly. He is visited by the ghost of his dead father, who tells him that he was murdered and that he was murdered by his uncle and that Hamlet must revenge him. So Hamlet's problem for the rest of the play is that he, the heir to the throne, has to kill the king -- the reigning monarch -- in order to avenge his father's death. And all the rest of what occurs in the play springs from that one central dilemma for Hamlet.
GROSS: Do you feel like you've brought a new overall vision to this production of Hamlet -- a different interpretation than you've seen in the past?
BRANAGH: I think the way we have produced our vision I hope is different and original. With things like Shakespeare, and Hamlet in particular, I think it's hard to claim any originality. I feel as though everything' s probably been done by minds much greater than mine, but we at least in choosing, for instance, to set it in a kind of impressionistic 19th century, in a much more colorful way than is perhaps usually done. Hamlet seems to be perceived as a very dark and Gothic play where all the characters are sort of predisposed to be manic-depressives.
GROSS: That's right.
BRANAGH: I don't believe that from reading the text. Nothing, nothing about what's said in the play gives the idea that under different circumstances, I -- not at a time when the king is just killed -- would they be anything other than very alive and curious and bright. I think that central sort of change of thought is the, if you like, originality of our view.
GROSS: This Hamlet is -- your production is four hours long and you use the whole text and even, I think, a couple of additions. Whereas when Olivier did his movie version of Hamlet, he cut out a lot of the minor characters -- a lot of the subplots, and shortened it to about half the length.
BRANAGH: Yes.
GROSS: With your production, why did you want to keep everything in, knowing how difficult it is to sell a movie that's four hours long?
BRANAGH: My experience of playing this play in the theater in several productions, including one that was at the full-length, was that the story was easier to follow. Even if people haven't seen or even heard of Hamlet, there is a misty kind of memory of a fellow in black, you know, and holding a skull and being a bit depressed.
GROSS: That's right.
BRANAGH: So they've got some idea of what to expect, and yet they get intimidated by it and they think it will be somebody being very morose and intellectual. Of course, he's a very bright and intelligent man, but there's a story there that is very thrilling.​ ​It has basic elements that Shakespeare's contemporaries used in this genre: the revenge melodrama. If there was a film equivalent, maybe it would be the thriller.​ ​As a form, Shakespeare uses madness, revenge, suicide, the visitation of a ghost, the possibility of incest -- these are all kind of crowd- pleasing, page-turning -- rather, you know, low elements, he might say.
But alongside that, there's a story of many different things: a family crisis; story about miscommunication in a family with which we can all identify, I think. It would be tough if your mother remarried your uncle inside a month of your father's death. That's a tough issue.​ ​But they also are a royal family, so what they do -- the impact of their personal problems is felt across a whole nation. And so you have the end of a dynasty, if you like.
You see a whole world in transition, and you see the very personal problems of people who are in situations that we might find ourselves in, but they have the extra dramatic quality of being watched -- they' re under the microscope. They're people in positions of power whose every move is scrutinized, rather like our own political leaders today; our own royal families today. And I think that that mixture of something very epic, dealing with the fate of nations and war and politics and something very, very familiar and intimate and domestic and personal is what makes the long version not only easier to follow, but more gripping.
GROSS: We're all taught in English classes that Shakespearian tragedies are about a great person of heroic proportion who is brought down by a fatal flaw. And in Hamlet, well the fatal flaw some people say "oh, it's his depression; it's his indecision." I had a feeling it was like really self-absorption. You know, watching your Hamlet, I'm thinking: well, Hamlet is so -- just oblivious to how he's destroying Ophelia and how he's treating her; and the way he's tearing apart his mother; and how he's dealing with her remarriage. And he's even oblivious to what this is doing to his kingdom. He's self-absorbed.
BRANAGH: Well, I think that that, for me, makes him very, very recognizable and human.
GROSS: Very contemporary.
BRANAGH: Very contemporary -- self-absorption of individuals this end of the century is pretty astonishing, especially post-Freud and post-all the sort of psychoanalysis that we have as part of our sort of daily bread and butter. It's on television; it's in self-help books in libraries. We're all somehow trying to find ourselves.
Now Hamlet is certainly doing that. In doing the long version, of course, what you get are moments of revelation, including I think a crucial one, which is at the end of the first half of our picture, where Hamlet goes out onto the plain in Norway and sees Fortinbras -- also a young man, also a prince, also just lost his father, also got his uncle on the throne -- who, as distinct from Hamlet, is happy to send off a group of 20,000 men to fight for a piece of Poland which is simply a sort of political expedient, because he thinks it's right. Hamlet can't do that, and it puts his problems in perspective.
He has to go back. He has to face his own problems. At that point, of course, Hamlet has become a murderer -- the self-absorption you so rightly mention has also produced someone who ends up killing the prime minister -- a fact which has been hushed up, but makes Denmark a hotbed of scandal, intrigue, and revolution.
Laertes comes back -- the dead father's son to avenge him. And I think in the long version, you get a sense of Hamlet traveling to a point in his life where perhaps he is seeing a little more outwardly, instead of inwardly. He is learning to forgive a little; be a little more tolerant.
For me, I suppose that's what the story's about -- that there's a point at which it's quite healthy to be looking at yourself; and there' s a point at which it perhaps tips over into something unhelpful.
GROSS: I wonder if you like the character of Hamlet? If you think of him as someone you want to -- that you would identify with and admire? Or somebody who is so flawed in some ways that you -- you have real problems with him?
BRANAGH: I do like him. I like him because he is flawed. I like him because of his fallibility. I think that his heroism, if you like, springs from his human frailty. This is a man who is often very cruel, as we mentioned before. He's brutal in his treatment of both Ophelia and Gertrude -- people that he loves.
But my experience of life, such as it is, is that the people are most cruel to those that they love. One of the reasons, I suppose, in the tragic, inevitable scheme of things that Hamlet has to die, is that we know that he has done some things which just, you know, in the grand scheme of things, can't be forgiven.
But he has essentially tried to face up to his problems, I believe -- has tried to work them out. But it's his very complexity -- his contrariness; his contradictory qualities; a man who can appreciate so keenly his friendship with Horatio and the importance of friendship; who can be so loving with Ophelia, on one hand, and then so terrifyingly aggressive with her -- this is somebody I think who is remarkably human and yeah, I think he's somebody I'd like to spend time with.
GROSS: One of the many famous lines that comes from Hamlet is about being cruel to be kind. And he says this to -- I forget whether it' s Gertrude or Ophelia...
BRANAGH: He says it to Gertrude.
GROSS: ... and you know, I just -- this is the first time I found myself wondering: is Hamlet so kind of gifted with words that he can rationalize whatever he's doing?
BRANAGH: He, to some extent, may well be a prisoner of a very strong intellect. And when he says that to her, he has just murdered the prime minister, who's lying in a pool of blood in her bedroom.
Their lives have changed forever from that point. The prime minister' s been killed. The world will change.
GROSS: This is Polonius.
BRANAGH: Yeah.
GROSS: And it's an amazing scene, really -- yeah, he's just -- he sees this figure lurking behind the curtain and kills him, thinking it's probably going to be the king...
BRANAGH: Yeah.
GROSS: ... but it's actually Polonius, who's got his own problems, but Hamlet wouldn't have wanted to kill him. And he's lying there in this big pool of blood, and Gertrude and Hamlet are just, like, talking and talking and trying to work things out -- just kind of oblivious to the fact that there's this bleeding corpse a couple of feet away.
BRANAGH: Well, they're having the conversation, if you like, that they should have had at the beginning of the film when Hamlet really wants to say to her: "how could you be so insensitive as to marry my uncle within one month of my father's death?" So they need to say things that go above and beyond their sensitivity to the fact that they've just killed somebody.
GROSS: My guest is Kenneth Branagh. We'll talk more after a break.
There are so many lines from Hamlet that are famous. Run through some of them.
BRANAGH: Well, we have the -- probably the most famous line in English literature: "To be or not to be? That is the question." You mentioned "cruel to be kind," "neither a borrower nor a lender be," "to thine own self be true." You've got "alas, poor Yorick, I knew him, Horatio." I always used to think it was "alas, poor Yorick, I knew him well."
GROSS: Me too.
BRANAGH: Yeah, and that was the kind of thing that I picked up as a kid off the television, 'cause there were all these cliches about Hamlet. So it's full of them. It's absolutely full of them, as Shakespeare is, but Hamlet in particular is full of quotes that have absolutely worked their way into the language.
GROSS: Give me a sense of one of these quotes that is kind of really worn out when it's used as, like, common wisdom or a great quote out of context -- but really works in context and has a genuinely interesting meaning in context.
BRANAGH: Well, I'll tell you a funny example of it, which is to refer to a line that you mentioned earlier on: "I must be cruel" -- the line in the text is -- "I must be cruel only to be kind" which colloquially becomes "you have to be cruel to be kind" or whatever.
I had boils on my knee when I was about seven or eight years old, and my mother used to squeeze them with hot and could poultice. She claimed there was no other way to deal with this. I've since taken her to task about it.
But that was the line she used to come out with, you know -- "I must be cruel to be kind" as she squeezed these boils and I was seven or eight years in Belfast.
Now that line, you know, in context, is, I have to say, nothing to do with squeezing boils and is -- does express some of what you rightly mention is this -- a certain kind of self-righteousness that Hamlet has from time to time, which is not a very appealing quality, but which is also part of being a human being in a very traumatic situation.
GROSS: Tell me about approaching the "to be or not to be" soliloquy -- the most famous of all soliloquies, perhaps leading with the most famous line in all of theater. What did you think about in order to make that sound meaningful, and not like "oh yeah, those lines -- I know those lines."
BRANAGH: Well, I 'spose there were lots of things to consider. I had played it in the theater many times, and found it difficult.
You come on sometimes -- I'd seen actors do it, actually -- rushing on, say the line very quickly, hoping to get this famous passage out of the way. The audience feels rather cheated then, and I used to come on -- on one production and say it slowly. But I found that the entire audience whispered it under their breath with me, and had I stopped in the middle of the line, it would have been completed by the rest of the audience. I felt like I should have a child with a bouncing ball behind me.
So I think you've got to -- in film at least, you were -- you didn' t have an enormous audience there. And in fact, in the way we shot it, which was with Hamlet looking into a mirror, it meant that in this vast state hall set full of mirrored doors, there was only myself and the camera operator. So that at least gave me a feeling of isolation. We couldn't have anybody else in the room because they would have been reflected. You have to try and say it as truthfully and honestly as possible. One of the things about that speech that I think sometimes gets forgotten is that Hamlet has been sent for prior to this.
Sometimes, the actor's so concerned with the famousness of the speech that he comes on with that in mind, and in fact, it's quite useful as an actor to come on with some sense of "hello, where is everybody?" -- of possibly being watched. So that that quality -- the slight paranoid thing -- runs under the speech as well.
You try and say this truthfully as possible, and as if the lines had never been said before. For me, having done it a lot before, I'd got a lot of my neuroses out of the way and I also felt: do it in a mirror with Hamlet literally talking to himself and with the suspicion, which we as the film audience know to be true, that Claudius is actually watching him on the other side of what we find out is a two-way mirror -- was something that was very helpful to me. Our atmosphere in the court was one of suspicion and spying and intrigue -- hidden doors and two-way mirrors -- and there was something that put a little sort of nervous thing under the speech, which was very helpful.
GROSS: Can I ask you to choose one of the soliloquies from Hamlet, and just talk about how you approached it in your line readings - - where to breathe; what words to accent; what words to just -- what to really, kind of, bring more to the surface; what to just kind of play down and make more subtle; how to make it sound conversational as opposed to a speech?
BRANAGH: Well, each one's different, and in each case before you approach the speech, you look at what's available to you in terms of printed editions of the text and whether you believe there's a consistency to the way the speech appears to have been punctuated.
Often, that's not the case. Some editions will give you a comma at the end of the line, instead of a full stop; or give you a full stop in the middle of the line. There'll be a different reading. Some people are very scrupulous about Shakespeare's punctuation, and some people like to be very cavalier with it. Derek Jacobi and I often disagree about this. Derek's a great -- feels that because nobody was there to check that you can throw it all away.
And one of the things that he loves to do is to make sure that each line is said differently, particularly -- I mean, for instance, specific example. When Hamlet sees Ophelia at the end of the "to be or not to be" soliloquy, he says: "Nymph, in thy orisons be all my sins remembered" -- "orisons" being prayers or prayer books. Now, you can say the line straight: "Nymphet, in thy orisons in your prayers be all my sins remembered." Or you can say: "Nymph, in thy orisons? Your -- at your prayers are all my sins remembered?" Those kind of decisions you make, line by line, on a soliloquy.
And you often look for words that repeat themselves. I sometimes do an exercise of looking down the end-line -- the end word of each speech, each line, and seeing whether there is a recurring pattern there.
Also, you have to work out whether there's a single idea or a single metaphor sustained all the way through the speech, so that, you know, there are endless metaphors sometimes occupying 10, 15 lines to do with whatever -- weather; the sea; mountains; intricate metaphors about insects and images to do with how that affects politics and things.
And so you kind of work it like that. And then, one of the things I tried to do with this, in each case, was to do all of that kind of work and especially if it's rhyming -- you have to be aware of that, and yet touch it lightly. It's very important to be aware of literally the sound of it. Sometimes when you are stuck interpretively, you need to go through it and just sort of, as it were, taste the consonants. There are a lot of middle consonants and end consonants. But as soon as you hit a little more sharply, to give definition to it, provides a kind of music that gives you an intuitive sense of what the meaning is.
So I think you throw all of that at it, and then soliloquy to soliloquy you try and say it as truthfully as possible in that moment, forgetting it -- forgetting all of that technical preparatory work, so that the final obligation to the audience is to be as real as possible in that moment; with all technical preparation forgotten about -- utterly in service to the idea of being truthful.
GROSS: What do you do -- like, the line that you mentioned before -- that Hamlet says to Ophelia about "in my orisons." Is that the word, "orisons?"
BRANAGH: "In the orisons" -- yeah.
GROSS: I mean, I wouldn't have know that means "prayer."
BRANAGH: Hmm.
GROSS: So, don't you feel like cuing the audience, like: "OK ladies and gentlemen, that word"...
BRANAGH: Well.
GROSS: "... means prayer." Or just having something -- there's so many words in Shakespeare that a contemporary audience -- an audience who wasn't filled with scholars -- wouldn't know. So how do you deal with those words so that there's some hint of what they mean, without...
BRANAGH: Well, in that instance, I think it...
GROSS: ... defining them.
BRANAGH: ... in that instance, you can be relatively simple in having her have a prayer book that she's looking at...
GROSS: Right.
BRANAGH: ... and have Hamlet in the way "in thy orisons" -- either with some sort of gesture towards it, so that the audience will pick up or intuit, if you like, a great deal of what is going on, even though they may not necessarily get the meaning of every line.
Like, there's a line in the full version -- the closet scenes -- you know, that scene where he says: "for in the fatness of these percy times" -- we used to have a lot of fun, actually, during -- talking -- because that suddenly appeared to us like a newspaper -- the Percy Times -- was a newspaper that ran through Elsinore -- but "in the fatness of these percy times" -- "percy" if I recall right, you know, meaning sort of overgrown, you know, ranc -- rancorous times, these corrupt times.
Well, you know, in the context of that scene, you just color the line with your own sense of what "in the fatness of these percy times." You know, the audience is going to get some sense that Hamlet's using the word "percy" with some ironic coloring, and in the context of other lines, they will understand.
I think it gives, if nothing else, it literally gives poetry. It gives music. It gives sounds -- the sound of the word sometimes having an impact on the ear and on the senses generally -- that wins an audience over and that is a sort of treat in itself, 'cause some of the sounds are very odd and very delicious.
And even though we may not literally understand it, I think that's fair enough. There's a great deal in the play that, I think, because it's a classic and has withstood 400 years of people throwing themselves at it, that resists definitiveness. There is mystery in there, and that mystery -- Hamlet says to Guildenstern "you would pluck out the heart of my mystery." No will pluck out the heart of Hamlet, the play's mystery.
But on the way, you can -- you can, if you serve, as we do in this one, the whole text up, I think that intuitively, the audience respond to it in a very mysterious way. And I think that that's a magical, magical thing which we underestimate because we so want to nail everything. What kind of Hamlet is it? What's his motivation?
What does it mean? Can I have it in three sentences please. It's not possible, and that's very exciting.
GROSS: Kenneth Branagh. We'll hear more from him in the second half of our show. I'm Terry Gross, and this is FRESH AIR.
This is FRESH AIR. I'm Terry Gross, back with more of our interview with Kenneth Branagh recorded in January after the release of his film adaptation of Hamlet. Now, your previous film was called "A Midwinter's Tale" and it was about a kind of rag-tag group of actors who were totally broke; they' re all utterly eccentric; and they're doing a production of Hamlet in this closed-down church in a rural area. This is a comedy.
I want to just play a bit of a very funny audition scene in which the director of the play is auditioning a very pretentious actor who wants to star in the role of Hamlet. Here it is.
(BEGIN AUDIO CLIP, "A MIDWINTER'S TALE") FIRST UNIDENTIFIED ACTOR: Hamlet isn't just Hamlet. Oh, no, no. Oh, no. No, Hamlet is me. Hamlet is Bosnia. Hamlet is this desk. Hamlet is the air. Hamlet is my grandmother. Hamlet is everything you've ever thought about -- sex, about . . . geology
SECOND UNIDENTIFIED ACTOR: Geology.
FIRST ACTOR: In a very loose sense, of course.
SECOND ACTOR: Can you fence?
FIRST ACTOR: I adore to fence. I live to fence. In a sense, I fence to live.
GROSS: Kenneth Branagh, was that ever you? Were you ever -- doing it that much, about the meaning of Hamlet?
BRANAGH: I've been on either end of that kind of conversation, where people are -- sort of intellectualize their response to the play or -- I remember there was one occasion where I worked with a director who was talking to the court, who was standing around while in a production of Hamlet.
Claudius and Gertrude were walking in, and he said: "and what I'd like you to do, in a strange way, what I'd like you to do is to absent yourself from yourself and give yourself to nationhood." So -- a lot of heads turned around, and suddenly somebody piped up and said: "so you'd like us to bow." "Yes, bow. That's good." "Good."
GROSS [laughing]: I love this actor in it because he's so much trying to prove that he owns Hamlet, and I think everybody wants to -- it's such a kind of universal play. It's been done so many times over so many centuries, and everybody wants to prove, like, it's mine. I understand it better than you do.
BRANAGH: Yeah. And there are lots of things in it -- that you can pick up on words, characters. People can seize on things -- this particular actor, and it goes on to talk about his extraordinary research for the role of Hamlet. He said: "well, you know, normally I would have spent about nine months in Denmark to get this right -- get the feel of it; get the smell of it." And they say: "well, what did you do this time?" He said: "Well, I got this book on the Eiffel Tower, because Laertes visits Paris, and you know, I just wanted an image in my head." Actors get very funny about this kind of stuff.
GROSS: So what was it like for you the first time you did Hamlet? How old were you?
BRANAGH: I was 20 years old and I was at drama school. I was at the Royal Academy of Dramatic Art, and -- in London -- and it was a panic-making experience 'cause it was very alarming to see these great sort of set-pieces be so close to each other. Now, that was a very cut version -- about two, two hours 20 minutes. But a lot of the sort of big famous bits still in.
And partly because of the cuts, but mostly 'cause this is the way it goes, they are very close to each other. You suddenly do the " rogue and peasant slave" soliloquy, which is an extraordinary piece of writing in which the actor, I suppose, is required to strike 12.You've got to give it all you've got, 'cause there he is trying to work himself up into a state where he can revenge his father. He' s trying to be like the actor you've just seen.
You finish that. You come off, and you come on immediately to "to be or not to be" -- a meditative, reflective speech which, in a sense, could be taken out of the play. It doesn't advance the plot at all. Again, naked, but in a very different way, 'cause you can't do all that ranting and raving. And it's the most famous speech ever written, probably. And I found that all these things coming so close together meant that for me, the experience of the part, to begin with, was a sort of obstacle course. I used to come off in the wings and ask to know where I was going to go back on again, because just getting through it, remembering it, and as Noel Coward would say "not bumping into the furniture" was quite a lot to take on board the first time.
GROSS: I imagine remembering it is pretty darn hard.
BRANAGH: Mm. It is, and of course, you don't always remember it in the right order. One of the other things Midwinter's Tale talked about were some of the famous, you know, paraphrases.
When Gertrude first talks to Hamlet in the court scene, she says: "Hamlet, cast off thy nighted color." And I was in a production with someone that Gertrude said: "Hamlet, cast off thy colored nighty." Then there are a whole series of characters in the play -- secret characters. There's a dog in the closet scene, or at least so actors would have you believe, because the ghost says to Hamlet: "but look, amazement on thy mother sits," so this little dog called "Amazement, " we believed, populates the play. Then there are classic characters -- the Hamlet charwoman, Elsie Nore. Then there's...
GROSS: That's the name of the castle.
BRANAGH: Exactly. Somebody says: "they came with martial stork, across the plains." So "Marshall Stork" is another general who's in there. And also Horatio's girl friend, Felicity. At the end, Hamlet says to Horatio before, as Horatio's attempting to commit suicide, he says: "Absent thee from Felicity Awhile." Her second name is "Awhile." "Felicity Awhile" -- Horatio's girl friend. The hidden meaning in Hamlet.
GROSS: Well, the first time you did Hamlet, were there any hidden meanings that you saw that you thought: "well, I am going to bring this to the surface and I will show what Hamlet is really about.
BRANAGH: Well, one of the things I did that I lost over various productions of playing it, was a sense that he absolutely goes mad, live, in front of the audience, in the scene with Ophelia -- in the nunnery scene. He meets this woman who has been banned from seeing him. The pair of them, it seems, love each other very much, but he feels that she' s been unjust. She feels he's behaved irrationally.
Anyway, in the midst of this confused, almost adolescent, you know -- "will you be my boy friend?" "no." "will you be my girl friend?" "no" -- sane. He suddenly says: "where is your father?" And she says: "at home, my lord," which is a lie because she knows that her father is watching. And I chose that moment in that very first production to do a great kind of spastic convulsion of heartbreak and madness, with eyes rolling and all sorts of nonsense that then left me pretty much nowhere to go for the rest of the play because I was mad in the middle of the third act, so I had two acts of being completely potty. So I dropped that after a while. I still think it's quite a heartbreak. I just don't think that he goes as erratically mad as I did back in whenever it was -- 1980.
GROSS: What did you director tell you?
BRANAGH: Oh, director was a very cool guy. He said: "yeah, just go with it, man, you know. Just kind of see where it takes you, man, you know. It's quite interesting -- interesting choice."
GROSS: Kenneth Branagh, a pleasure to have you here. Thank you so much.
BRANAGH: Thank you. My pleasure.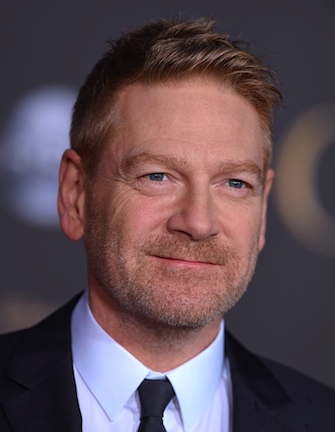 &nbsp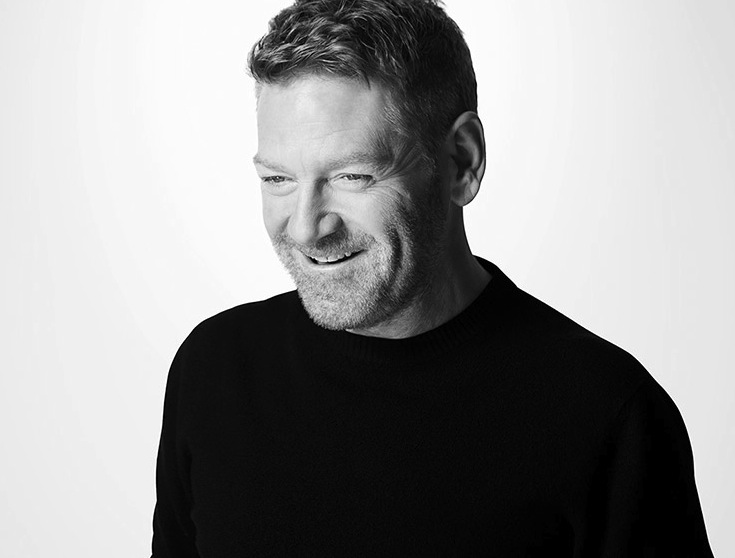 The Kenneth Branagh Theatre Company alights in the UK
The Kenneth Branagh Theatre Company announces a full season at the Garrick Theatre in the London West End in 2015-2016.
"The Winter's Tale" is part of a 5-show season running from October 2015 through November 2016. Judi Dench plays Paulina and Branagh directs and plays Leontes. "The Winter's Tale" runs in repertory with "Harlequinade", co-directed by Branagh and Rob Ashford, Terrance Rattigan's play within a play, about a troupe mounting productions of "The Winter's Tale"and "Romeo and Juliet". October 17, 2015 - January 16, 2016.
The comic farce "The Painkiller" runs from March 5, 2016 to April 30, 2016 and stars Branagh and Rob Brydon in a reprise of the play presented at Belfast's Lyric Theatre, directed by Sean Foley.
Branagh directs "Romeo and Juliet" with Lily James and Richard Madden paired not so happily ever after from March 5, 2016 through April 30, 2016.
Closing out his inaugural season under this particular theatrical banner, Branagh takes on the role of Archie Rice in "The Entertainer", directed by Rob Ashford, from August 20, 2016 through November 12, 2016. Branagh's choice of a John Osbourne play bookends and harkens back to Branagh's own early stage days when Branagh exploded as a fiery Jimmy Porter in Osbourne's "Look Back in Anger".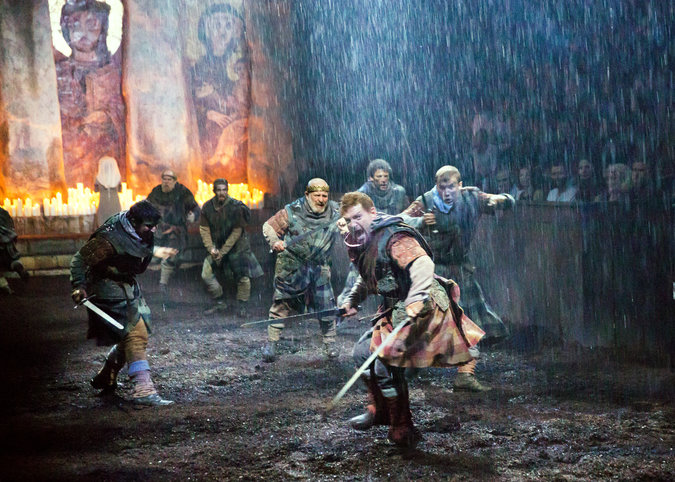 How Far Sir Ken Has Come: While yet he lives to say this thing's to do.
Supporting the Arts: Last year's 2015 Note of Thanks from RADA and Kenneth Branagh
What's Up Theatre: The Scottish Play -- Kenneth Branagh's Summer Spell in Manchester

Macbeth's run at the Manchester International Festival is unbearably short--but for those unable to attend, there is every
reason to believe that Branagh is in serious preparation for his film of the Scottish play. Long has he wished to bring it
to the screen, and his percolations have led to what he calls "anchor scenes". He's had several images and scenes
for Macbeth for some time, working on storyboards to further the process. For Branagh, the key
is the world in which the film will be set, from which everything flows.

According to the MIF program, "This tragic tale of ambition and treachery unfolds within the walls of an intimate
deconsecrated Manchester church." Brrrr. The choice of a former church for the infiltration of the
witchery and evil which rises up to confront and consume a man already chills the spine.

___________________________________________________________________

From a 1996 interview with Kenneth Branagh

KB: Shakespeare always denies sleep to his tragic heroes in moments of crisis, a spectacular example being Macbeth. In Macbeth he calls it "nature's balm... the cure for hurt minds." You don't get sleep because you are anxious.

CMM: Do you still feel daunted when you start a project, or when you arrive on the set for the first day of shooting?

KB: Getting sleep is a tough thing to do. It's a constant anxiety, and I'll go through various things: I'll take some sleeping pills, I'll take some herbal pills, I'll try to have a massage, or anything that will trick me into getting the sleep that is necessary. That's a crucial thing; it's a very Shakespearean thing. Shakespeare always denies sleep to his tragic heroes in moments of crisis, a spectacular example being Macbeth. In Macbeth he calls it "nature's balm... the cure for hurt minds." You don't get sleep because you are anxious.

CMM: As an actor or as a director?

KB: In both cases. As an actor because you are aware of a greater amount of expectation, particularly from yourself, in playing a role that is so open to interpretation, which relies so heavily on the personality of the actor. Whether it's Shakespeare or anything else, your try to find, in the current state of knowledge, what you think to be the sort of appropriate state of preparation to act well.

This is a constant mystery to me, because it changes all the time. It changes as you get older, you work with different people, it's a different project, you're having a bad day, you're having a good day, it worked yesterday when you had drank a cup of coffee before the take, but then a cup of coffee makes you forget your lines... You get anxious as an actor; and as a director, you're anxious for other people.

CMM: You've done Hamlet several times on stage, for different directors, and you've done a radio version. Was there a sense here, because this is a big-budget film, or because of your age, that this Hamlet was going to be your last crack at it, that this is the version that's going to fix it?

KB: Absolutely. "Time's winged chariot" was hurrying very near. What I tried to do was to convince myself, with many years of preparation, direct and indirect, experience in playing the part, with my own relationship with the part, with all the homework in the world done, that, in a way that couldn't really happen when I did Henry V, my obligation as Hamlet was, once that camera turned, to be as real and as natural and as truthful as possible in the moment, within the style of what we were doing, and to forget about all that information, forget about what you prepared. Julie Christie used to say to me, "You do it different every time, don't you?" I said, "If you say it different to me, I'll say it different to you." It's just however it comes out.

We've got to trust the work we've done. I don't believe in trying, on film, to repeat some loved moment from the theater, recreating something, repeating things --"I was terribly effective when I did the line like that." I like to try to give it away, and just, in that moment, to have worked up to the point where you might be able to leap off into some inspirational percentage, that you and the other actors might just catch something so that your scene and the performance sings a bit in that kind of mysterious way.

CMM: Can you give me an example from the film?

KB: The closet scene was different with Julie Christie than any time I had played it before. There's one specific scene -- it's a scene I like very much -- the "recorder" scene, with Rosencrantz and Guildenstern, after the play. We were in this tight space in this little theater we created, and the camera crew and everybody was saying, "You should break this up -- this shot here, this shot there -- let's block it so that we can cover it from six or seven different angles." And I said, "No, I feel that we should do this in one." I've always wanted that scene in the theater to go like some whippet; Hamlet is in a way at his least attractive, but he's also at his wittiest, with his extraordinary aggression against these two lads. We had everybody kind of cooking at the right time, and I thought the scene was funny and vicious.

We did a number of things in the film where we shot things in one, which puts some real flame under the actors. They get kind of nervous; it creates a kind of theatrical effect. It actually helped to create conditions, as I thought, that were conducive to bringing out that sort of extra under-the-skin kind of tingle that the audience can feel, I'm sure, when it's happening right in front of you, and you don't know what's going to happen next.

CMM: Are stage actors or film actors more receptive to that kind of approach?

KB: I find my best experiences are with people who do a combination of the two. What you do have from stage actors is an ability to learn three or four pages of dialogue, and to be able to come up with it zippily, and not need to do it line by line. If you've got actors who can remember it and are really on the tips of their toes about it, and they're also good film actors, then I think you get the best of both worlds. I sometimes feel frustrated when I want to do things with the camera and with the scene, which, I believe, essentially, gives the scene to the actors, and an actor can't sustain it for over a minute or so. But, what these [film] actors do have often is, in the moments they produce, an absolute, laser-beam radio-signal connection with the truth.

CMM: What's still out there that you want to do?

KB: In the not so distant future, if I have the chance to do them, Love's Labour's Lost and Macbeth. I want to do Love's Labour's Lost as a musical. I've always liked the play. It's very funny, very melancholy, very unusual, and has this peculiar Shakespearean magic in there, it really breaks your heart at the end, and it's also silly -- very, very silly.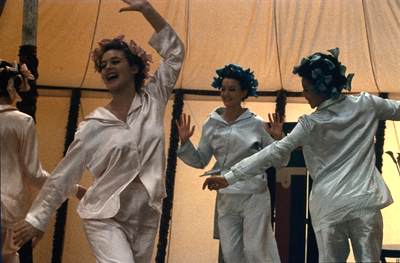 &nbsp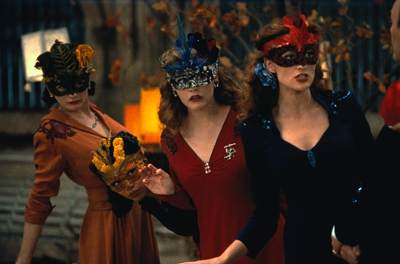 I find that I get an idea about the world in which it's set, the period if you like (though I try to make all our periods pretty loose), and then you just keep putting every scene and every character up against that idea to see whether it's going to limit it or work for that character. For Macbeth, it's witchcraft -- you really have to find a world in which you believe that witchcraft is in the air, that it's real. I want get a world going for the characters where the witchcraft really sends shivers down your spine, so that you know, when Macbeth knows, when he makes this pact with the devil's representatives, how very serious it is; so religion has to be very important. Then the marriage between Macbeth and Lady Macbeth -- that marriage has to be very carefully set. She says, "I have given suck," and yet they don't have children; is she older, is she younger? And it's Scotland. You get an idea, you get pictures. And these I find are "anchor pictures."

With each of those plays now, in terms of the development of a film, I've got several scenes in each (many more in Love's Labour's than in Macbeth) where I can see the film and hear it. I can see the dance routine in Love's Labour's Lost: I can see a fantastic library, a fantastic circular library, and a dance routine on skateboards (but it's not a set now; a version of skateboards), and with them going all the way around the ceiling. I can see the women on punts on a river.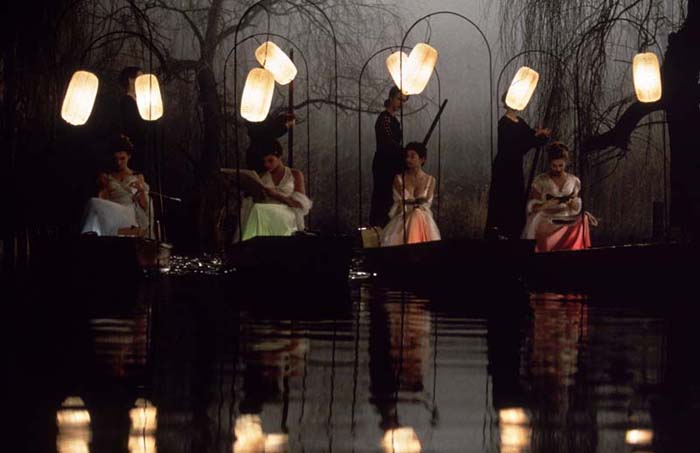 So I'm currently bashing away at those two plays. I carry copies of the plays with me (I've got them in my bag), and I'll sit and study a scene for a bit, and make notes, and work up some storyboarded images.
Jonny bowing for "Pyramid Song", Santa Barbara Bowl: it was raining but we forgot that . . .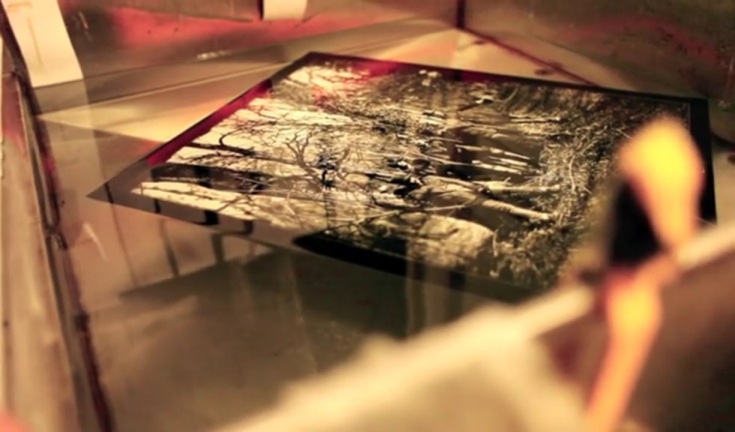 Radiohead: The King of Limbs

&nbsp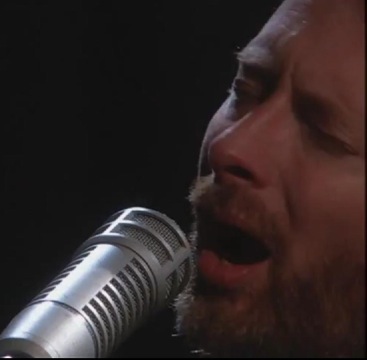 What's Up Music:

Radiohead - The Zen Album
The King of Limbs: Explore, Expand, Embrace
By Renie Pickman-Thoon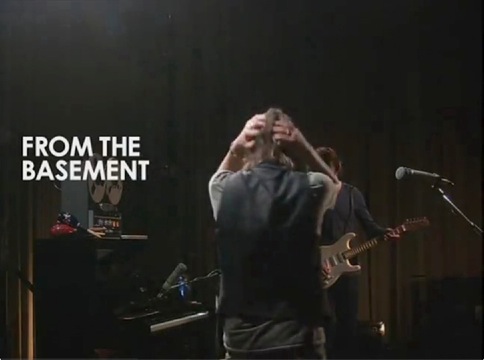 Radiohead - From the Basement 2011 - The King Of Limbs - photos and quickie review at What's Up Music.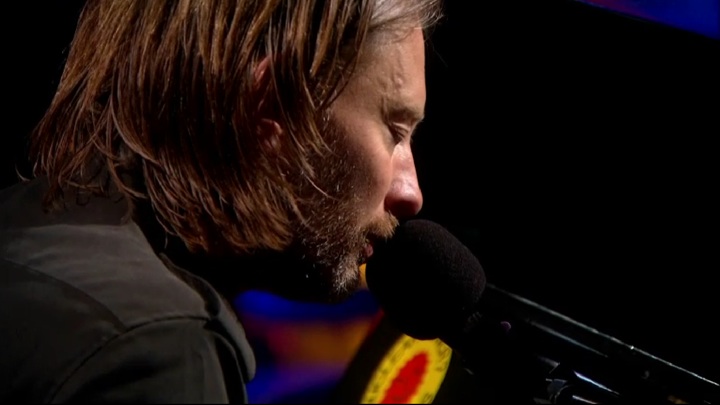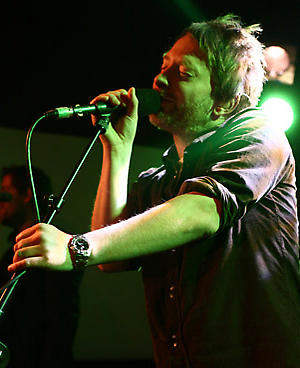 An excerpt from an interview with Kenneth Branagh by the Telegraph follows, where the actor/director discusses what makes him go.

'Not that I feel I need to justify it or explain it, but I know it wasn't about, "Hey, look at me",' Branagh says evenly of his early working life. 'It was about absolute enjoyment of what I was doing. I did not expect to be allowed to be an actor, to be allowed to eventually direct things. 'So really, frankly, for many, many years after that, there's still a kind of "pinch me I can't believe this is happening" thrill to it. There was an ebullience; there was an effusion. A sheer enjoyment of doing it. Maybe the work ethic was to do with justifying that one was worthy of that.'

But often, he adds, it was about fairness. If he ran his own theatre company, he could pay everyone the same money. If he made his own films and turned a profit, he could split it equally. 'Not rocket science,' he notes, 'but things I believed in.' He talks about In the Bleak Midwinter, his 1995 comedy, shot in black and white, about a small theatre company's attempt to put on Hamlet at Christmas. 'One of the greatest pleasures I had was when we had a screening on a Sunday morning in the West End. And most of the crew and cast came, including Joan Collins. I'd paid for the film myself with the money I made from Frankenstein, and we sold it at a profit. The books were completely open. And as they left the cinema that morning, we had all the envelopes laid out and we gave everybody a cheque – including Joan Collins, who nearly fell over. She said, "I've been in the businessÖ for a quite a long time, and this has never happened." She opened it and she said, "F***ing hell!" Because it was not inconsiderable.'

By now we have moved back to the Yellow Bird HQ and, sitting in the dining area, Branagh is drinking tea. 'I remember telling my dad about that and he thought that was bloody good. Because he used to tell me about Friday nights, Crown Pub, in Belfast, opposite the Europa [Hotel], in one of those booths – they'd finish work at three or four o'clock and he would be doling out the cash. It reminded me of that. So I was proud of that. I thought that was fair and that was sharing it out. And because I'd paid for that, I was able to protect the film. It didn't get snaffled up by all the ways and many means you can be shafted in our business. 'And there you go,' he concludes. 'It doesn't make me Saint Ken. But [the motives] can be as straight as that.'

Straightness, fairness and camaraderie: these are things that matter to Branagh. Also in the context of In the Bleak Midwinter he mentions the writer and director Richard Curtis: he was 'a big fan of my little comedy. When he need not have been, Richard was somebody who encouraged and was simply kind and enthusiastic. And smart and funny. That's one of those things in this business that you remember.' Thus, when I ask Branagh why exactly he had undertaken a comic cameo last year in Curtis's slight The Boat That Rocked, he replies that he was returning the favour. 'If Richard Curtis had asked me to walk off a plank into the ocean I'd have done so.'

'Ken genuinely loves the idea of everyone together in a team,' Curtis says. 'That egalitarian spirit, I think, is why he wanted to get on so much when he was young – just for the crack of it. He rang me up right before we began shooting The Boat That Rocked, and he said, "As a director, I know how scary the first day is – you've to get to know your costume person and your cameraman. So I want you to ignore me completely." He was on set for four days and he wasn't remotely precious or grand, just completely humble. And like a lot of English classical actors, such as Michael Gambon, Ian McKellen and Simon Russell Beale, he is very good at comedy.'

For Branagh, support and encouragement must go both ways. Daniel Radcliffe credits Branagh with pushing him in the direction of Equus: Branagh had the original idea for Radcliffe to star in the much-praised 2007 West End revival of Peter Shaffer's play. 'Ken was great because he was always looking out for possibilities of stuff we could be doing together,' Radcliffe recalls, adding that he originally suggested they do Rattigan's The Browning Version. Branagh oversaw early workshops for Equus. Meanwhile, Branagh has cast his Wallander co-star, Tom Hiddleston, in his next directorial project, Thor, starring Natalie Portman and Anthony Hopkins. It's another intriguing left turn in a consistently adventurous career, but at this early stage of production (filming begins in Los Angeles in the next few weeks) Branagh is contractually prevented from speaking about what, one imagines, will be a CGI-heavy Hollywood blockbuster comic-book adaptation. But he has been using his time in Sweden to research Viking mythology and visit Norway on fact-finding trips. So serious is he about the project that, last year, he handed over to Michael Grandage his planned directing of Jude Law in Hamlet – a huge theatrical undertaking that he had been preparing a year.

'I tried for a long time to see if I could do both [Hamlet and Thor],' he says, 'and I couldn't. And then I said to Michael and Jude, "What do you think?" You know, it was a difficult moment. You don't want to let anybody down. But honesty's the best policy.' For Branagh the prospect of making a Marvel superhero movie 'is just such an extra-ordinary adventure to go on. It doesn't happen every two minutes. And Michael and Jude said, "On your way, and enjoy it . . . '''

Back outside Ystad's swimming-pool, Wallander is slumping down the road. On the director's instruction Branagh does it three, four, five times. On each occasion, he stops beneath a tree. On one take he exhales heavily. Another, he stares up at the branches, eyes closed. Another, he seems almost catatonically numb.

These are the closing scenes of The Man Who Smiled. 'It's Wallander walking away from his job, basically,' Branagh explained. 'He's constantly been in turmoil about whether he wants to continue to be a policeman. And he appears to have decided not to be.' Over the three new adaptations 'he goes on an interesting journey, which is to really deeply question why he's a policeman and the price he pays, the personal price, in relation to death . . . '

For Branagh, too, the work is important, but not if it means losing yourself. 'I'd say that's from my parents. It's a basic Irish working-class thing.

I was working with a huge star not long before my father died, and he said, [in a broad Ulster accent], "You wanna watch him, I think he's forgot himself . . . "

'Now,' Branagh says with a smile, 'that's a cardinal sin for them. It's about simply remembering yourself and remembering what you're doing and to be in the here and now. And know who your friends are, and know the value of money – in as much as it isn't going to make you happy. Your health is really the greatest blessing you can ever have, and after that friends and family. 'And all of those things contain complexities and sophistications and plenty of stuff to keep your life interesting. But if it's about the spurious pursuit of the glittering prizes, you'll find that they won't give you a hug late at night.'

What's Up Art: Stanley Donwood, "Over Normal" at Fifty24SF Gallery, 218 Fillmore Street, San Francisco &nbsp Yeah, that Stanley Donwood.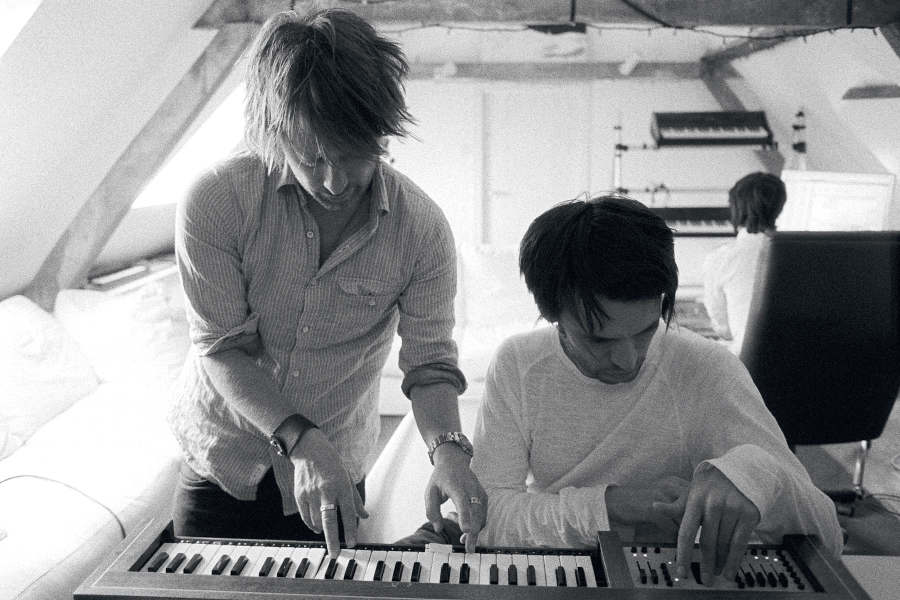 Atoms for Peace consists of musicians Beck drummer Joey Waronker, Radiohead producer Nigel Godrich,
percussionist Forro in the Dark lead Mauro Refosco, and bassist Flea from the Red Hot Chili Peppers.
The band wrapped a five-stop US tour in April 2010.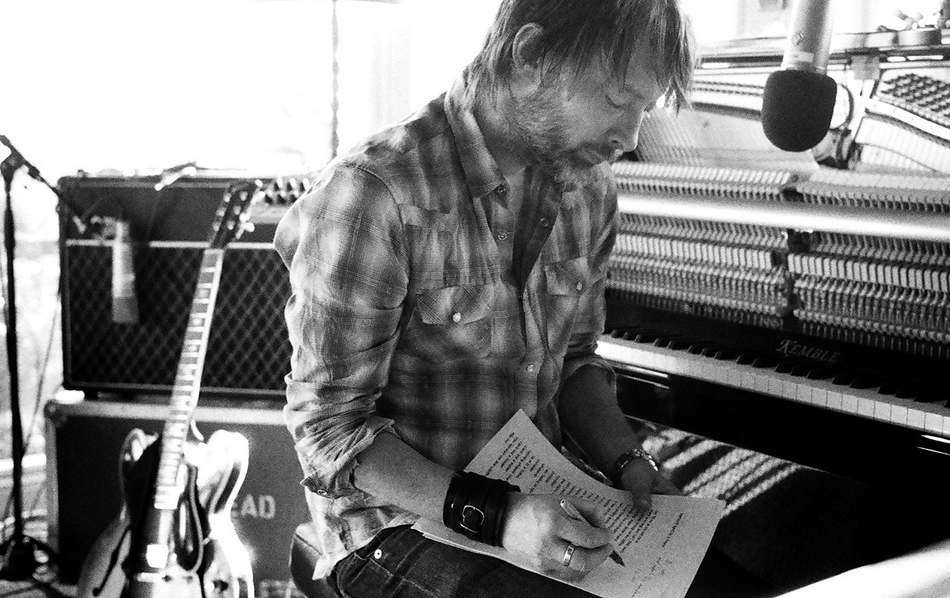 Brush Up Your Shakespeare

The Bard's New Profile Pic
&nbsp
Forget the Chandos portrait, and get ready to welcome instead "The Cobbe oil painting of William Shakespeare". According to Professor Stanley Wells, whose scholarly books related to Shakespeare are perhaps in their 524th editions, this newly-identified portrait (below) is as genuine as it gets. Visual and scientific dating evidence appear to affirm that Shakespeare had a handsome and intelligent face, and looked younger than his 46 years.
William Shakespeare, at 46, in a portrait painted in his lifetime. The latest in the search to discover the true likeness of the greatest Western writer in history. Shakespeare died in 1616, only 6 years after the portrait was completed.
On March 9, 2009, at the unveiling at Dartmouth House, in London's Mayfair, Professor Wells (on the right, above), the chairman of The Shakespeare Birthplace Trust, declared himself 90% certain the portrait is authentic as "the only lifetime portrait of Shakespeare".

Investigations were carried out by Professor Rupert Featherstone, director of the Hamilton Kerr Institute at Cambridge University which focuses on conservation of easel paintings, Hamburg University where they dated the oak panelling of the painting and Tager Stonor Richardson, which carried out infrared imaging. Mark Broch, curator of the Cobbe Collection also carried out painstaking research.

The painting will go on display at The Shakespeare Birthplace Trust in Stratford-upon-Avon on April 23, Shakespeare's birthday.

Compare this rendering, proven to have been contemporaneously created during Shakespeare's lifetime.

Excerpt from an interview with Kenneth Branagh in the Mainichi Weekly Online
20 July 2007

Q: According to your biography, you left Belfast when you were 9 to escape the Troubles. Do you think your experience of the conflict there influences your battle scenes?

A: I think it makes me aware of how easy it is for people to hate, rather than to love. I think it's a very exciting time in Northern Ireland right now. Politically, a massive, massive shift has occurred, and ancient hatreds have been put aside. I think an awareness of conflict and the need to resolve, the need for peace was very much part of my background. And this film [The Magic Flute, directed by Branagh] certainly is about the need for peace.

Q: What is your motto in life?

A: A good question. A hard question. It sounds like a cliche, but there is a line from Hamlet, at the end, where he says, "The readiness is all." In that context, it's probably about being ready for death, but I think it's a motto for me and it's about trying to be open in life, be open to experience, be open to situations and to people. And be ready, be ready to be surprised, sometimes be ready to be disappointed, be ready to be excited and be ready for anything. But be ready for things to change. Be active and positive. I suppose another way of saying the same thing would be: 'Anything can happen, enjoy it.'"

For more background on Branagh's film version of Hamlet, try The Readiness is All -- The Filming of Hamlet

Woody Allen as the Dane? Only by way of Billy Crystal.
Kenneth Branagh in David Mamet's "Edmond". Reviews and photos of Branagh at the National Theatre.

Offsite Offerings

Need Shakespeare? Check here for outside Shakespeare links.

Need a Shax monologue? Try the Monologue Archive.

Read Shakespeare here, at the Literature Network online.

Voices and Verses in Film: What are those poems and who wrote them?

Theatre Highlights: Alan Rickman on Stage
Alan Rickman as Elyot in a true-to-life Private Lives.

Go to Page 2 of the Front Page

Go to Page 3 of the Front Page

Go to Page 4 of the Front Page

Features of the Daily Telegiraffe

What's Up: BOOKS Sarah Hatchuel, "Branagh and The Bard: A Companion to the Shakespearean Films of Kenneth Branagh"

What's Up: FILM Waking Will Divinely: Shakespeare in Love

What's Up: STAGE Kenneth Branagh's Macbeth

Back Issues:

&nbsp What's Up STAGE Rufus Sewell Takes on Macbeth


__________________________________________________________________________________

*** DID YOU KNOW? ***

NEW YORK - "Hamlet" was chosen as the greatest poem of the millenium in the New York Times Magazine millenium review!

LONDON (Reuters) - William Shakespeare was picked as Britain's "Man of the Millennium" by a poll of BBC radio listeners!

ENJOY . . . Chosen as the greatest poem of the millenium, Hamlet endures.

ENJOY . . . Who is the "Greatest Fictional Character in World Literature and Legend" - - one guess.
With the Austen lover's link.

ENJOY . . . Back issues of our features, indexed by subject on the front page, and on current feature pages.
ENJOY . . . Programme notes from the NFT's Branagh Retrospective, now added off of the Hamlet page.

ENJOY . . . Gertrude and Claudius, a book by John Updike, explores the new King and Queen.

ENJOY . . . Shakespeare in Less Than 10 Minutes Review of a video of restorations of the earliest surviving silent Shakespeare films from 1899-1911. Also, can you choose your five favourite Shakespeare films? Check your picks against Kenneth Branagh's choices.

ENJOY . . . Director Michael Almereyda's film "collage" of a knit-hatted Ethan Hawke as a Gen-X slacker. Our review of his Hamlet is here.

Almereyda does Denmark as a corporate prison. From the New York Times: Two Fortinbrases and the Ghosts of Hamlets Past. The last stage Hamlet of 1999 in New York becomes a photo album of Hamlets past, including Branagh, Olivier, and Gibson. Added: The New York Post muses on performing Hamlet.

ENJOY . . . Woody Allen, C'est Moi A French interview with Kenneth Branagh about working with Woody Allen.

ENJOY . . . ABC: Woody Allen, Kenneth Branagh, and Celebrity

ENJOY . . . Behind Celebrity's Curtain: An unabashedly editorial film review from the front office.

ENJOY . . . Glimpses of genius. In praise of HAMLET: Kenneth Branagh's film version captures the soul of Hamlet.


Also find on the Hamlet Page an interview with Kenneth Branagh (now with photograph) and an account of the London benefit screening of Hamlet, at which Branagh appeared.

ENJOY . . . The New York Times review of "Discovering Hamlet" a short film which documents Branagh's early take on the stage role under the direction of Sir Derek Jacobi.

ENJOY . . . Kenneth Branagh's interview at his NFT Retrospective, as conducted by the Guardian newspaper. Complete text, and complete Questions and Answers now available.

ENJOY . . . Billy Crystal does DeNiro working on Branagh's Hamlet, and a bit of his version of the Woodman doing the Dane.

ENJOY . . . Alan Rickman in Private LIves with an inexplicable bonus of the transcription of Rickman's appearance on "Late Night with Conan O'Brien" promoting the film Galaxy Quest.

ENJOY . . . The films " Onegin" and "The End of the Affair" open with reviews, interviews, and photographs. Fiennes has been searching for Pushkin's anti-hero Eugene Oneginfor some time.

USING THE DAILY TELEGIRAFFE

© 1998--2016 Daily Telegiraffe

The Daily Telegiraffe is a non-daily non-dairy publication, where Mel Brooks meets Jane Austen,
Woody Allen meets Thomas Hardy,and everybody loves Shakespeare.

WARNING!!!: Reading these articles has been known
to induce mild amusement and may become habit-forming.

. . . so tell your friends!

This publication is for entertainment only. Pages which contain our Big Ben icon
contain parody and fabrications intended as humourous commentary and witty jocularity.
Such page(s) may also include irreverent sarcasm, elements of irony, and assume a level
of intelligence on the part of the reader. We apologize for any inconvenience.

All proprietary and legal rights reserved. On the other hand, you've read this far,
and the Daily Telegiraffe believes that tenacity should be rewarded. Accordingly,
permission is hereby given to reprint, reproduce, and otherwise distribute any original
articles which appear herein, as long as the name of this publication is cited.

The Daily Telegiraffe also brings you "real deal" news and items, which can be found off of this front page.
The copyright for those items remain with the original creator(s) and no infringement is intended.

Send e-mail, comments, additions to reniept@hotmail.com or click here.