Over Normal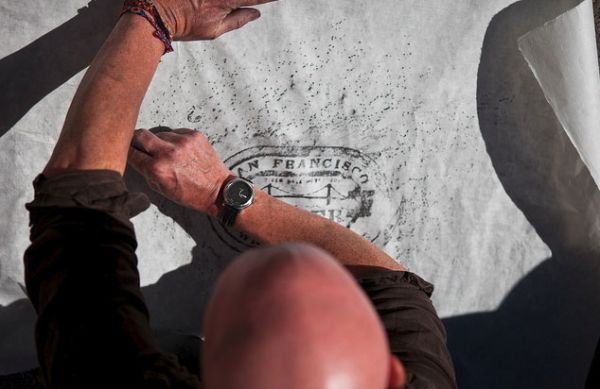 Stanley Donwood, "Over Normal" at Fifty24SF Gallery, 218 Fillmore Street, San Francisco. 9/2/10 - 10/27/10
A Few Minutes With Stanley Donwood
About LA--he's embarking on a new project, lino cuts (like wood cuts) to do with Los Angeles--everything about it--its emptiness/barrage of fullness, how it just asks for it. He's excited. I'm thinking perhaps this will be "LA Views" like his "London Views" set of linocuts, some of which were used for "The Eraser", Thom Yorke's solo album. SD sighs that the more he talks about this newest project, the more he's got to get to doing it, really commit. So here I am, spreading anticipation so he'll be motivated (or backed into a corner where procrastination is no longer an option. Depends on how you look at it.)
He's a massive reader. All sorts of books. We share an interest in Swedish crime novels, but he was not impressed or inspired to watch the BBC's new Wallander productions with Kenneth Branagh. "You're Henry the Fifth!" Said Ken seemed like a nice guy though. (He did recount the beginning of the first one, where the girl immolates herself in a field.) He explained how in England, if you're successful at first, well, people tend to be hard on you thereafter. He loves the Swedish-produced Wallander series, and who doesn't. He recommended to me the Martin Beck series, and mentioned that co-authors Sjowall and Wahloo were Marxists. Currently he's reading a new book by a geopolitcal socialist about environment. I think he said the author is also an economist? SD doesn't know him personally. Chris Williams. I think. Williams has written for the International Socialist Review, which sounds like what we were discussing.
History, archeology, antiquarian thinkers, Archimedes and the present (as in, now) are on his mind. Donwood's writings and artwork reveal a man who both chooses input and opens himself up to what's here, in the moment. Then he digests, and what is not thoroughly digested (sort of like Jung's imaginative/dream thought--manifesting itself in art) along with what is remade by his peptides and such (as in Jung's intentional thought) becomes his creative art. His art seems inseparable from his self. (This isn't trite or tautological--many artworks are more distinct from their creators, and so in that sense separate from the artist who creates them.) Reading his reaction to the scheduled looting of his own installation "Red Maze", you get the sense he knows just how deeply ideas-into-action affect one's self and people, often unpredictably, and nearly always in ways which are disturbing, for the wrong or right reasons.
What we value--his decision to keep many of the works he created "safe" from the looters perplexes him. What is at play here? How much of the maze is a metaphor for life? The looters, who were invited as they entered to donate to a charity to do with helping a museum which was a victim of looters--were they honoring his art, were they aesthetes with a mob mentality, were they excited art lovers participating in the final part (as far as the artist goes, at least) of the maze's performance art? Did they want a piece of history? Did they want to be part of history? What did they learn, and what did they feel? Maybe we could invite them to explain that. Because art, like life, keeps evolving.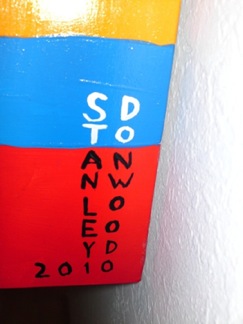 About an hour later I walked by a bar, where a lone young woman sat outside. SD was sitting there too, holding a beer, not talking. Not sure if it was Stanley Donwood the artist or Dan Rickwood or some other of his personas that was sitting there. Wonder if he knows. I drove by the bar a few minutes later, because I wanted an image in my head. He was still sitting there, looking out into the San Francisco night.