There is Nothing Like a Dane
By D.J.R. Bruckner
New York Times
July 11, 1999

DISCOVERING HAMLET
With: Kenneth Branagh, Richard Clifford, Susan Coates, Richard Easton, Russell Jackson, Derek Jacobi, Edward Jewesbury, Dearbhia Molloy, David Parfitt, Sophie Thompson, Jenny Tirami, Jay Villiers and Jimmy Yuell. Color. 53 Minutes. $19.98 PBS Home Video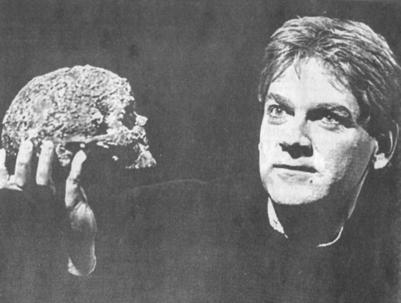 "It's a big role," Kenneth Branagh says, taking his first shot at Hamlet and fearing that "the part's running away with me." At some point, that apprehension seizes every actor in this gritty documentary of four weeks of rehearsals a decade ago at the Birmingham Repertory Theater, where Derek Jacobi directed a visiting company Mr. Branagh belonged to.
Of the production, Mr. Jacobi says "part of it will be me," Indeed. Once in a while, the cast seems to feel it is battling two monsters: a great play and a director who is the best Hamlet of his generation. You can feel the exhaustion (they were performing other Shakespeare plays at night, after these daytime rehearsals) and occasional frustrations; as Mr. Jacobi critiques once scene, Mr. Branagh, hunched over, absent-mindedly tears his Styrofoam cup to bits.
But the play struggles to life, from the first days when the actors, with scripts in hand, are puzzling out their characters, until, in the fourth week, having memorized lines, inflections, gestures, feelings, movements, everything together, they have become the Hamlet family and its outriders. you think of them then principally as the characters, even though they are in jeans and sneakers.
As they get deeper into character, some of their asides to themselves are revealing. When Hamlet realized that Ophelia (Sophie Thompson) is toying with him for the benefit of the eavesdropping Polonious and Claudius, Mr. Branagh recoils from Ms. Thompson and murmurs: "It clicks. She's every woman!" Richard Easton, playing Claudius, sniff: "Hamlet's a loser. Claudius wouldn't be interested in a loser."
By the dress rehearsal, Mr. Jacobi--who earlier could snap at Polonious, "You are a very cold fish; don't smile!"--gently reminds everyone to let the audience get a glimpse of them inside their roles: "Take a moment and show us what a wonderful person you are."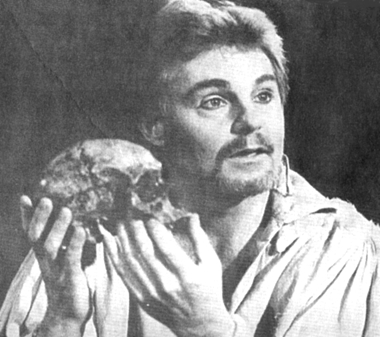 This video focuses not on famous speeches but on how actors work. Mr. Jacobi blocking the scene in which Hamlet confronts his mother in her bedroom is a sharp lesson: Now," shooing Branagh off, "get away from her, get away"; and to Dearbhla Molloy as Gertrude: "Reject some of his insults!
On opening night the actors put on makeup, glance in the mirror and then walk the few feet from the dressing room to the stage, quiet, each alone--and the tape ends. We never see the result of their month's work. Fair enough: they have heard no applause yet.
In a few places the editing of the film is clumsy. And a minimal running narration by Patrick Stewart is superfluous. But these little faults are not terribly distracting.
How often do you get to see someone so gifted, and celebrated, as Mr. Branagh (who would later star in his own film version) learn a new role, flub lines and blush at his mistakes?
[We couldn't agree more--Ed.]