What's Up Art: More Stanley Donwood

Stanley Donwood in the Panic Office: The Art of the Bear at the Carriageworks in Sydney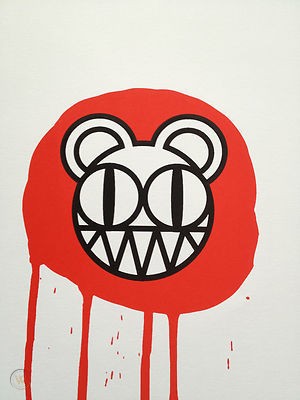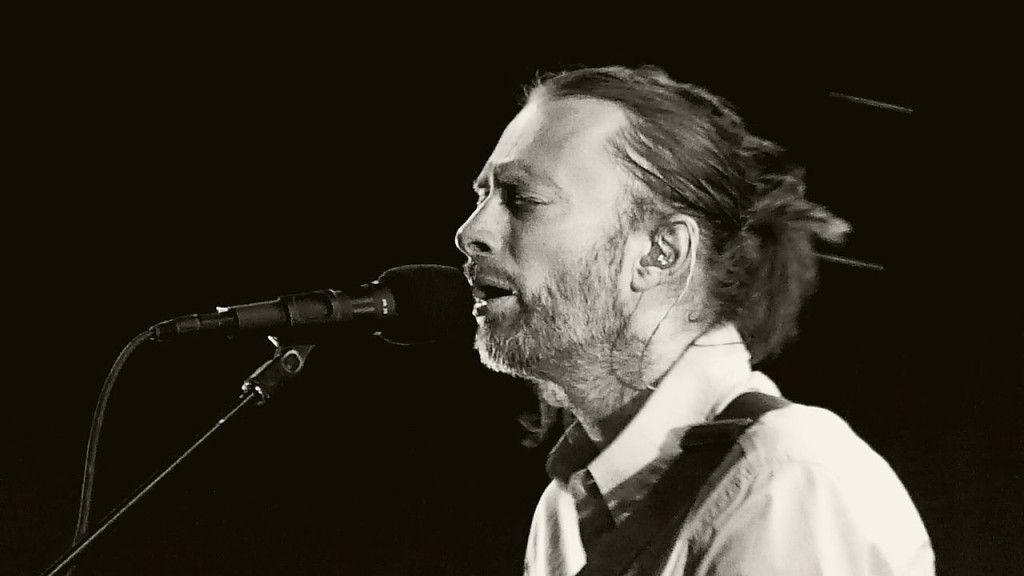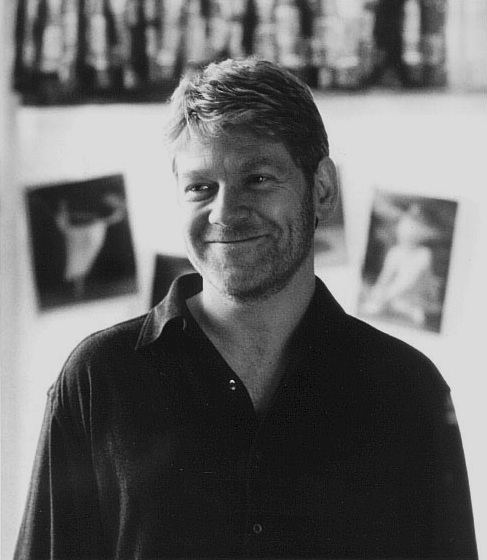 From a 1996 interview with Kenneth Branagh
KB: Shakespeare always denies sleep to his tragic heroes in moments of crisis, a spectacular example being Macbeth. In Macbeth he calls it "nature's balm... the cure for hurt minds." You don't get sleep because you are anxious.
CMM: Do you still feel daunted when you start a project, or when you arrive on the set for the first day of shooting?
KB: Getting sleep is a tough thing to do. It's a constant anxiety, and I'll go through various things: I'll take some sleeping pills, I'll take some herbal pills, I'll try to have a massage, or anything that will trick me into getting the sleep that is necessary. That's a crucial thing; it's a very Shakespearean thing. Shakespeare always denies sleep to his tragic heroes in moments of crisis, a spectacular example being Macbeth. In Macbeth he calls it "nature's balm... the cure for hurt minds." You don't get sleep because you are anxious.
CMM: As an actor or as a director?
KB: In both cases. As an actor because you are aware of a greater amount of expectation, particularly from yourself, in playing a role that is so open to interpretation, which relies so heavily on the personality of the actor. Whether it's Shakespeare or anything else, your try to find, in the current state of knowledge, what you think to be the sort of appropriate state of preparation to act well.
This is a constant mystery to me, because it changes all the time. It changes as you get older, you work with different people, it's a different project, you're having a bad day, you're having a good day, it worked yesterday when you had drank a cup of coffee before the take, but then a cup of coffee makes you forget your lines... You get anxious as an actor; and as a director, you're anxious for other people.
CMM: You've done Hamlet several times on stage, for different directors, and you've done a radio version. Was there a sense here, because this is a big-budget film, or because of your age, that this Hamlet was going to be your last crack at it, that this is the version that's going to fix it?
KB: Absolutely. "Time's winged chariot" was hurrying very near. What I tried to do was to convince myself, with many years of preparation, direct and indirect, experience in playing the part, with my own relationship with the part, with all the homework in the world done, that, in a way that couldn't really happen when I did Henry V, my obligation as Hamlet was, once that camera turned, to be as real and as natural and as truthful as possible in the moment, within the style of what we were doing, and to forget about all that information, forget about what you prepared. Julie Christie used to say to me, "You do it different every time, don't you?" I said, "If you say it different to me, I'll say it different to you." It's just however it comes out.
We've got to trust the work we've done. I don't believe in trying, on film, to repeat some loved moment from the theater, recreating something, repeating things --"I was terribly effective when I did the line like that." I like to try to give it away, and just, in that moment, to have worked up to the point where you might be able to leap off into some inspirational percentage, that you and the other actors might just catch something so that your scene and the performance sings a bit in that kind of mysterious way.
CMM: Can you give me an example from the film?
KB: The closet scene was different with Julie Christie than any time I had played it before. There's one specific scene -- it's a scene I like very much -- the "recorder" scene, with Rosencrantz and Guildenstern, after the play. We were in this tight space in this little theater we created, and the camera crew and everybody was saying, "You should break this up -- this shot here, this shot there -- let's block it so that we can cover it from six or seven different angles." And I said, "No, I feel that we should do this in one." I've always wanted that scene in the theater to go like some whippet; Hamlet is in a way at his least attractive, but he's also at his wittiest, with his extraordinary aggression against these two lads. We had everybody kind of cooking at the right time, and I thought the scene was funny and vicious.
We did a number of things in the film where we shot things in one, which puts some real flame under the actors. They get kind of nervous; it creates a kind of theatrical effect. It actually helped to create conditions, as I thought, that were conducive to bringing out that sort of extra under-the-skin kind of tingle that the audience can feel, I'm sure, when it's happening right in front of you, and you don't know what's going to happen next.
CMM: Are stage actors or film actors more receptive to that kind of approach?
KB: I find my best experiences are with people who do a combination of the two. What you do have from stage actors is an ability to learn three or four pages of dialogue, and to be able to come up with it zippily, and not need to do it line by line. If you've got actors who can remember it and are really on the tips of their toes about it, and they're also good film actors, then I think you get the best of both worlds. I sometimes feel frustrated when I want to do things with the camera and with the scene, which, I believe, essentially, gives the scene to the actors, and an actor can't sustain it for over a minute or so. But, what these [film] actors do have often is, in the moments they produce, an absolute, laser-beam radio-signal connection with the truth.
CMM: What's still out there that you want to do?
KB: In the not so distant future, if I have the chance to do them, Love's Labour's Lost and Macbeth. I want to do Love's Labour's Lost as a musical. I've always liked the play. It's very funny, very melancholy, very unusual, and has this peculiar Shakespearean magic in there, it really breaks your heart at the end, and it's also silly -- very, very silly.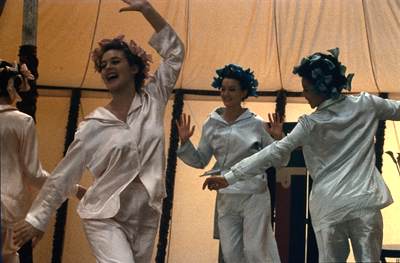 &nbsp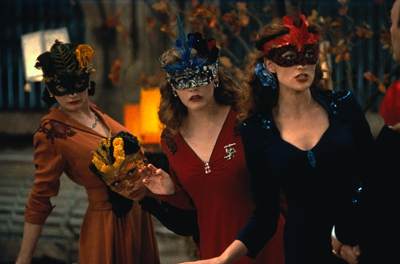 I find that I get an idea about the world in which it's set, the period if you like (though I try to make all our periods pretty loose), and then you just keep putting every scene and every character up against that idea to see whether it's going to limit it or work for that character. For Macbeth, it's witchcraft -- you really have to find a world in which you believe that witchcraft is in the air, that it's real. I want get a world going for the characters where the witchcraft really sends shivers down your spine, so that you know, when Macbeth knows, when he makes this pact with the devil's representatives, how very serious it is; so religion has to be very important. Then the marriage between Macbeth and Lady Macbeth -- that marriage has to be very carefully set. She says, "I have given suck," and yet they don't have children; is she older, is she younger? And it's Scotland. You get an idea, you get pictures. And these I find are "anchor pictures."
With each of those plays now, in terms of the development of a film, I've got several scenes in each (many more in Love's Labour's than in Macbeth) where I can see the film and hear it. I can see the dance routine in Love's Labour's Lost: I can see a fantastic library, a fantastic circular library, and a dance routine on skateboards (but it's not a set now; a version of skateboards), and with them going all the way around the ceiling. I can see the women on punts on a river.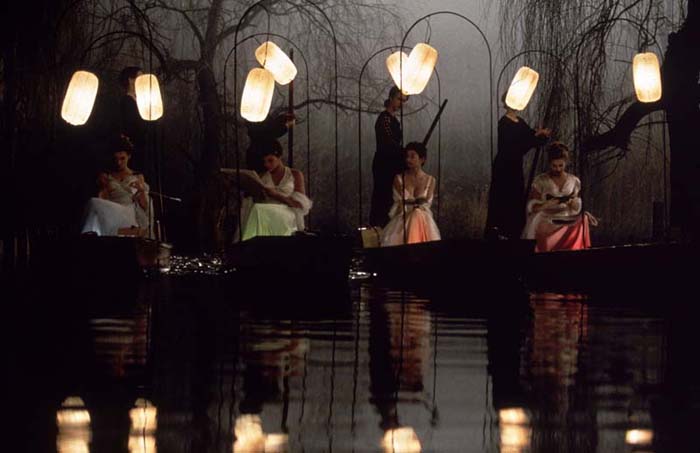 So I'm currently bashing away at those two plays. I carry copies of the plays with me (I've got them in my bag), and I'll sit and study a scene for a bit, and make notes, and work up some storyboarded images.

Excerpt from an interview with Kenneth Branagh in the Mainichi Weekly Online
20 July 2007
Q: According to your biography, you left Belfast when you were 9 to escape the Troubles. Do you think your experience of the conflict there influences your battle scenes?
A: I think it makes me aware of how easy it is for people to hate, rather than to love. I think it's a very exciting time in Northern Ireland right now. Politically, a massive, massive shift has occurred, and ancient hatreds have been put aside. I think an awareness of conflict and the need to resolve, the need for peace was very much part of my background. And this film [The Magic Flute, directed by Branagh] certainly is about the need for peace.
Q: What is your motto in life?
A: A good question. A hard question. It sounds like a cliche, but there is a line from Hamlet, at the end, where he says, "The readiness is all." In that context, it's probably about being ready for death, but I think it's a motto for me and it's about trying to be open in life, be open to experience, be open to situations and to people. And be ready, be ready to be surprised, sometimes be ready to be disappointed, be ready to be excited and be ready for anything. But be ready for things to change. Be active and positive. I suppose another way of saying the same thing would be: 'Anything can happen, enjoy it.'"
For more background on Branagh's film version of Hamlet, try The Readiness is All -- The Filming of Hamlet
Kenneth Branagh in David Mamet's "Edmond". Reviews and photos of Branagh at the National Theatre.
Offsite Offerings
Need Shakespeare? Check here for outside Shakespeare links.
Need a Shax monologue? Try the Monologue Archive.
Read Shakespeare here, at the Literature Network online.
Go to Page 2 of the Front Page
Go to Page 3 of the Front Page
Go to Page 4 of the Front Page

Features of the Daily Telegiraffe
What's Up: BOOKS Sarah Hatchuel, "Branagh and The Bard: A Companion to the Shakespearean Films of Kenneth Branagh"
What's Up: FILM Waking Will Divinely: Shakespeare in Love
What's Up: STAGE Kenneth Branagh's Macbeth
__________________________________________________________________________________
*** DID YOU KNOW? ***
NEW YORK - "Hamlet" was chosen as the greatest poem of the millenium in the New York Times Magazine millenium review!
LONDON (Reuters) - William Shakespeare was picked as Britain's "Man of the Millennium" by a poll of BBC radio listeners!
ENJOY . . . Chosen as the greatest poem of the millenium, Hamlet endures.
ENJOY . . . Who is the "Greatest Fictional Character in World Literature and Legend" - - one guess.
With the Austen lover's link.
ENJOY . . . Back issues of our features, indexed by subject on the front page, and on current feature pages.
ENJOY . . . Programme notes from the NFT's Branagh Retrospective, now added off of the Hamlet page.
ENJOY . . . Gertrude and Claudius, a book by John Updike, explores the new King and Queen.
ENJOY . . . Shakespeare in Less Than 10 Minutes Review of a video of restorations of the earliest surviving silent Shakespeare films from 1899-1911. Also, can you choose your five favourite Shakespeare films? Check your picks against Kenneth Branagh's choices.
ENJOY . . . Director Michael Almereyda's film "collage" of a knit-hatted Ethan Hawke as a Gen-X slacker. Our review of his Hamlet is here.
Almereyda does Denmark as a corporate prison. From the New York Times: Two Fortinbrases and the Ghosts of Hamlets Past. The last stage Hamlet of 1999 in New York becomes a photo album of Hamlets past, including Branagh, Olivier, and Gibson. Added: The New York Post muses on performing Hamlet.
ENJOY . . . Glimpses of genius. In praise of HAMLET: Kenneth Branagh's film version captures the soul of Hamlet.

Also find on the Hamlet Page an interview with Kenneth Branagh (now with photograph) and an account of the London benefit screening of Hamlet, at which Branagh appeared.
ENJOY . . . The New York Times review of "Discovering Hamlet" a short film which documents Branagh's early take on the stage role under the direction of Sir Derek Jacobi.
ENJOY . . . Kenneth Branagh's interview at his NFT Retrospective, as conducted by the Guardian newspaper. Complete text, and complete Questions and Answers now available.
ENJOY . . . The films " Onegin" and "The End of the Affair" open with reviews, interviews, and photographs. Fiennes has been searching for Pushkin's anti-hero Eugene Oneginfor some time.
USING THE DAILY TELEGIRAFFE
© 1998--2023 Daily Telegiraffe
The Daily Telegiraffe is a non-daily non-dairy publication for art and commentary,
where Thom Yorke meets Thomas Hardy, and everybody loves Shakespeare.
Featuring What's Up and From The Front Office. Celebrating over 20 years.
If you can believe that.
WARNING!!!: Reading these articles has been known
to induce mild amusement and may become habit-forming.
. . . so tell your friends!
This publication is for entertainment only. Pages which contain our Big Ben icon
contain parody and fabrications intended as humourous commentary and witty jocularity.
Such page(s) may also include irreverent sarcasm, elements of irony, and assume a level
of intelligence on the part of the reader. We apologize for any inconvenience.
All proprietary and legal rights reserved. On the other hand, you've read this far,
and the Daily Telegiraffe believes that tenacity should be rewarded. Accordingly,
permission is hereby given to reprint, reproduce, and otherwise distribute any original
articles which appear herein, as long as the name of this publication is cited.
All items "From the Front Office" or updates thereof express our most serious concerns,
and constitute a growing portion of this publication. (I.E. hogging the front page.) If things get better, you'll see less. Perhaps.
Meanwhile, we apologize for every inconvenience.
The Daily Telegiraffe also brings you "real deal" news and items, which can be found off of this front page.
The copyright for those items remain with the original creator(s) and no infringement is intended.
Send e-mail, comments, additions to reniept@hotmail.com or click here.