Shax Tracks
The following are selected comments from interviews, press conferences, articles and appearances about how and why Shakespeare connects with a lot of people he's never met, and what footsteps he's left behind.
*************
At Age 436, His Future Is Unlimited
New York Times
April 23, 2000
Adrian Noble, artistic director of the Royal Shakespeare Company
Here we are in the 21st century, celebrating yet another of Shakespeare's birthdays (his 436th) -- and honoring his death day (his 384th). As if aware of how essential a myth he would be, he neatly died on St. George's Day, April 23 -- the very same day he had been born in 1564.
But more than that tidy coincidence is the fact that the man and the myth pale when compared to the legacy of his plays. Four hundred-odd years on, running the Royal Shakespeare Company, which is consecrated to his memory, I often wonder what on earth his works have to say to us all now. And when I stop to think about it, which I do frequently, my wonder increases.
This Elizabethan jobbing actor never went to a university. He began to write as part of a team of promising hacks. Soon he was leading the pack with his own works of profound insight, of personal revelation, of love and loss, of political scrutiny and social engagement, of magic and reason.
Tom Stoppard and Marc Norman's film Shakespeare in Love captures that thrilling sense of an emerging talent learning on the run while finding the voice of his innate genius -- and emerging from what the filmmakers wittily convey as a kind of Hollywood studio system, with ruthless producers and behind-the-scenes bitchiness.
Whoever he was, there is no doubt in my mind that he wrote all the plays attributed to him and had a hand in a few more -- as a few fellow collaborators obviously had a hand in some of his from time to time. These plays have survived all sorts of cultural innovation: the novel, radio, film, television. Indeed, the plays have often proved an inspiration for the best creations in these forms -- as I'm certain they will for the 21st-century medium: the World Wide Web.
So why is Shakespeare still the foremost poetic playwright of the modern stage? Why does his work endure?
Perhaps the stories? Yes, but not just the stories. They are universal, largely filched from the Greeks, the Romans, his Renaissance contemporaries. Shakespeare was a magpie with the knack of the literary alchemist.
Is it the language? I very much believe it is. Speaking the words of these plays, enacting the stories, hearing the characters develop through their conscience is what makes his plays more significant than those of any other writer.
And the language is contemporary. The most famous six syllables in English -- perhaps in the world -- are completely modern and sum up the apposition at the heart of all Shakespeare's work: "To be or not to be."
Shakespeare's language, thought and emotion give us the tools to articulate our innermost passions, our outermost public declarations, our interaction with the world around us. And by us I mean all of us, not just people like me, whose bread and butter is the challenge of bringing his words to life; not just scholars or seasoned theatergoers. Shakespeare permeates all our thoughts. Simply. Directly. Transparently.
How we interact is at the heart of the conundrum of anyone involved in the performing arts. How do we reconcile the communal act of theatergoing, of being in an audience collectively bearing witness, with the boom in the solitary activity of the Internet? I would argue, of course, that the collective celebration of the live event in the theater, the gathering together for a distinctly social activity, is what makes theater so unique and so rewarding. And, I believe, theater is best served when producing inclusive plays, of which Shakespeare's are the prime examples.
Yet the Internet can complement this. It has the potential to be accessible to all those who cannot get to an individual theater building, for it extends far beyond the architectural confines of our palaces of culture. I'm certainly not advocating that we storm them. They are wonderful playhouses for our collective imaginations. But that is what I believe the Web is rapidly developing into.
As a Shakespeare play raises our expectations and empowers us through enhancing our understanding of the world around us, so the Web embodies the same experience for the individual within the context of a freely communicating global village. The Web will have a great deal to teach us about inclusivity in our buildings in the future. There is a philosophy to share, not to be inhibited or frightened by.
It strikes me that the Royal Shakespeare Company's residency at the Brooklyn Academy of Music next month is a paradigm of Shakespeare's enduring role. As well as "A Midsummer Night's Dream," we will be presenting two works, in verse, directly influenced by Shakespeare: the 18th-century idealism of Schiller's "Don Carlos" and my own production of "The Family Reunion" by the great 20th-century modernist T. S. Eliot.
Shakespeare -- more than the man and his birthday -- inspires us all. A very happy anniversary, indeed.
***********************
From Kenneth Branagh, who took part in British television's South Bank Show's Tribute to Shakespeare this year.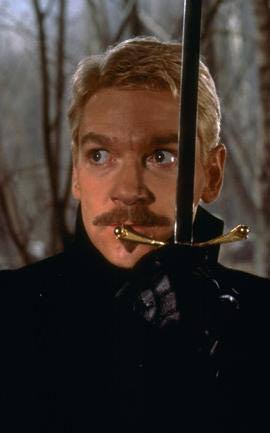 "It's impossible to pin (Shakespeare) down about what he thinks and, as you work with Shakespeare, actually finding the man, trying to find his what his opinions were about almost anything is very difficult. But along the way--it's a cliche--you nevertheless find out quite a lot about what you are."
"The theatre is a metaphor for life, as a mirror for life is something that he plays with all the time and he presents people, often revealing sides of themselves to certain people and not to others. That underlines the idea that there are many many different kinds of individuals-- and the plays attack that complexity."
(Clip from Branagh's Love's Labour's Lost - Berowne's speech about "Love, first learned in a lady's eyes".)
"This access to poetry that he has, this . . . this ability to deal directly with the heart, the ability to make - it sounds soooo pretentious but it happens, I've felt it happen and I've been in theatres when it happens, I've been in screenings of films - not necessarily my own, ah, when it happens, with the comedys where the ability to have the spirits, the souls of the audience sing."
(Clip from Branagh's Much Ado About Nothing - Beatrice and Benedict on the balcony - "Tell me for which of my bad parts did you fall in love with".)
"He always manages to do it and he does it in Much Ado About Nothing. To take us through what it's like to be in love. It's painful, you agonise, you get frustrated, you often hate the object of your love, you give it up repeatedly, you throw yourself back into it at the moment at which you've made the most strongest decision to resist it; you suddenly fall over all again, it's mutable instantly and extremely. And that sort of tumbling, kaleidoscopic effect of the way in which our emotions are utterly changed by romantic love is so beautifully caught."
(Clip from Branagh's Much Ado About Nothing - Benedict in the garden - "I may chance to have some wit broken on me because I have railed so against love...")
"I think (Shakespeare) felt many things and he has realism about, about what the statistics we all know are not so great (laughs). And I don't think they were as concerned about the divorce rate back in 1600, but I don't think that had anything to do with the fact that relationships are difficult, and relationships that start intensely or romantically are difficult to maintain at that level. He analyses that throughout all of the plays and he does place questions marks above them."
From a segment on Hamlet:
"(Hamlet) is so brilliantly intelligent and at the same time we see the dangers of the racing mind, of over-analysis, of constant monitoring of who we are and what we do. As he says at one point, you know, we didn't get this (pointing to his head) to fust in us unused, and at the same time it's a very very dangerous thing because we think ourselves in and out of situations. He does ask the question, "to be or not be" and right at the end of the play, in answer to a question he poses himself, he says "let be". And it's very tough "to be" and not be watching yourself being all the time--that fantastically compelling, irritating dimension of human behaviour is very much exemplified with Hamlet, perhaps the truest human being and the greatest play-actor in the whole canon."
"To me, in the absence of a, sort of, conventional religious faith, I'd say that there is much practical, moral, spiritual mention in these plays that--as an individual, distinct from the work I do--is immensely valuable to me."
(Thanks to Catherine for the transcription, which was lightly edited --mainly, ending a sentence or two!--Ed.)
*************
For the Love's Labour's Lost page, click here.
For the Daily Telegiraffe review of Love's Labour's Lost, click here.
For other reviews of Love's Labour's Lost, click here.
For the official website of Love's Labour's Lost click here.
For Branagh's thoughts on the film (from the LLL official website), click here.
For Love's Labour's Lost and more in the Guardian interview with Kenneth Branagh at the National Film Theatre's 1999 Branagh retrospective, click here.