Satin, Strings, and Shakespeare
Kenneth Branagh has pulled off a bit of magic. It's an old-time musical romance, but it's Shakespeare. Purists who feel the Bard belongs on a dusty shelf will be aghast—leaving everyone else to enjoy themselves. Take a seat by the giant swimming pool where those bathing beauties will out-Esther Ms. Williams. Suspend your belief, and savor this clever trip down Hollywood musical memory lane.
Click here if you only want to read our Pocket Review below.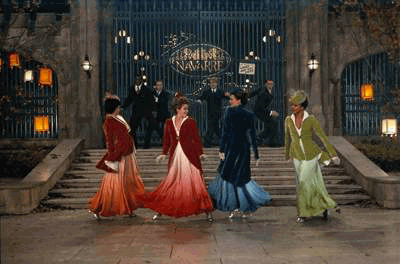 The Look
The beautiful fantasy kingdom of Navarre is painted in surreal technicolour, glazed in nostalgia. Each character is dressed more or less just as you'd imagine, with the girls and boys equally dreamy, arrayed in visual cues which telegraph which lover will belong to which. The details are drawn more for a sense of style, rather than for period points. The feel of the place takes precedence—a world of make believe, never burdened by reality. This world's a soundstage, and we know they're only players.
But they don't strut and fret. They glide, they pull faces, they even tap out iambic pentameter standing on a chair. Somehow, it fits. Like the good vaudevillian Costard, Branagh has lots of tricks hidden in his pockets. The film is chock full of gags, both verbal and visual. It's clear that Branagh doesn't want us to take his Shakespeare too seriously. (That was his last film, Hamlet.)
The style of filmmaking prevents us from any somber thoughts. The director watched a lot of movies when he was young—it seems a fair amount of them must have been comedies.
The Music, The Voices, The Dance
No matter what the characters are saying, and no matter how it looks, it don't mean a thing . . . well, you know where I'm headed. In a musical the music has got to be great—and combined with witty and sometimes farcial images, it's a pleasure, and in a few instances, a real hoot. The fact that the songs were carefully chosen to advance the story and take the place of much of Shakespeare's text comes almost as a second thought when you're watching the movie. They seem to segue pretty effortlessly—as effortlessly as they ever did in any classic musical. Not only do the words work, but the arrangements are lovely—and the original work from Doyle is reminiscent of his "Much Ado About Nothing" and "Sense and Sensibility" soundtracks.
Mostly, though, the air is rich with classic love songs every man, woman and child ought to know: The Way You Look Tonight; Cheek to Cheek; They Can't Take That Away From Me. If you don't have any memories to go with these songs, it's time you got some. I believe that just as good Shakespeare in performance sends you back to the text, good songs should send you off to the CD store. The voices are those of the cast—no Ethel Mermans, no Frank Sinatras. What's captured, instead, is a kind of simple, warm innocence which matches the tone and feel of the film. (You can always pick up some Ella Fitzgerald and Louis Armstrong while you're at it.) Although the melancholy of "They Can't Take That Away From Me" is affecting, the show-stopper (and there's always a show-stopper, honey) has got to be Nathan Lane and the cast doing "There's No Business Like Show Business".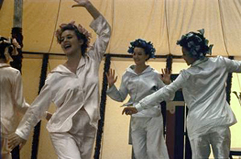 The Performances
Which brings me to the performances. The novices as far as Shakespeare's language do fine—-and go a long way in helping us believe that Shakespeare's meaning is easy enough to get. While verse may never be at home on the lips of Alicia Silverstone, she makes a pretty enough Princess, and is convincing when she comes up with an idea to tease the boys. But the pros are pros, and Geraldine McEwan and Richard Briers invest Holofernia and Nathaniel with a playfulness which comes when you're prefectly at home. Richard Clifford is a pivotal Boyet, perhaps seeming more alive than some other characters because of his sly role.
Timothy Spall, as the bumbling, marble-mouthed, mustachioed Don Armado renders "I Get No Kick From Champagne" complete with appropriate sight gags, and gets the laughs he deserves. But Lane is priceless. With his comic expertise and impeccable timing he positively solidifies the film, much the way Derek Jacobi grounded Branagh's Hamlet—though obviously not by pulling out a rubber chicken.
Branagh is a singer and dancer by sheer enthusiasm, not by nature. However, every trench step (those in-unison steps where it looks like rows of giants are running in time, swinging their stiff arms and legs at an increasingly frenetic pace) was in place, and every note sung sweetly in his self-described "light baritone."
But it's the words he can caress, and when Berowne speaks of love, that's when he pulls at the strings in your heart. It was too soon over; Branagh's delivery made me long for more of the text. Not for anyone else, particularly, but for Branagh.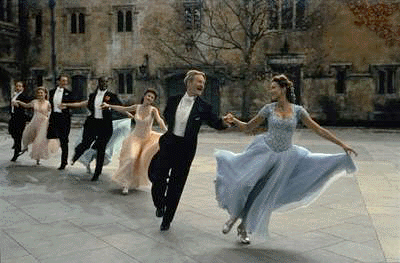 Spiced with homages to the black and white musicals of Astaire, to Busby Berkeley, and to the Marx brothers, it's a lovely and loving tribute to things past. With his fourth Shakespearean adaptation, Branagh has given us satin, strings, and champagne. The idea is so good, it's a wonder it hasn't been done before--but it's because no one but this guy would have the guts to even try it, let alone make it work. Branagh is fearless, and, once again, has put his heart into his movie. It shows. I'm wondering if there is anything this man can't do with Shakespeare. Slapstick, song and dance, and romance spells entertainment. Which is a fancy word for fun. Shax would have approved.
********************
The following Pocket Review contains no spoilers, if you haven't seen the film yet.
For a summary of the story as it's told in the film, check the Story of Love's Labour's Lost page.
The Pocket Review
Innovatively and cleverly done in a 30's Hollywood musical style, the film is rich with classic film homages, song and dance, jokes and gags (slapstick and Shaxstick), handsomely costumed, and warmly scored by Patrick Doyle. Updated, but full of nostalgic old-world style, it's funny, and above all, entertaining. A treat for all ages, though it's best described as a flute of rare champagne—very fine, delicious, and leaving you longing for more.
********************

Soundtrack Listings:
1. Love's labour lost
2. I'd rather charleston with you (medley)
3. Arrival of the Princess
4. I won't dance (medley)
5. I get a kick out of you (medley)
6. With that face... / No strings (I'm fancy free) (medley)
7. The way you look tonight (medley)
8. I've got a crush on you (medley)
9. Beauty of a woman's face / segue
10. Cheek to cheek
11. Let's face the music and dance
12. Trim gallants...
13. There's no business like showbusiness
14. Twelve months and a day
15. They can't take that away from me
16. You that way, we this way...
17. Cinetone news
18. Victory
For the Love's Labour's Lost page, click here.
For the Making of Love's Labour's Lost page, click here. Includes interviews, articles and essays.
For more essays and commentary on Love's Labour's Lost, click here.
For the Story of Love's Labour's Lost, click here.
For the studio production notes for Love's Labour's Lost, click here.
Click here for Trust Kenneth Branagh. Interviews with the Belfast Telegraph and The London Guardian are paired with photos and screen captures from Love's Labour's Lost.
For the Daily Telegiraffe review of Love's Labour's Lost, click here.
For other reviews of Love's Labour's Lost, click here.
For an interview with composer Patrick Doyle on the music in Love's Labour's Lost and more, click here.
For Love's Labour's Lost and more in the Guardian interview with Kenneth Branagh at the National Film Theatre's 1999 Branagh retrospective, click here.