THE DAILY TELEGIRAFFE
Making Kenneth Branagh's

HENRY V
Part 2: Behind the Scenes

Pre-1988 Kenneth Branagh and David Parfitt try to create a new kind of theatre venture, one which offers actors the chance for a more autonomous experience, very different from Branagh's experience at the Royal Shakespeare Company. Under the direction of fellow actors like Judi Dench, Geraldine McEwan (wife of Hugh Crutwell, who has given Branagh acting notes since drama school), Derek Jacobi, and Anthony Hopkins, young actors can work in a supportive company to develop their skills. Hopkins likes the idea of a cooperative company, disdainful of a previous Macbeth at the National Theatre where he "looked like a *bleeping* armadillo." In the end, Hopkins decides not to direct Macbeth. The other actors each direct a play from Shakespeare, and become part of the Branagh coterie.

Winter 1988 Branagh takes a call from someone he thinks might be either a nutcase or gangster, who says he's got "certain funds that might make your life easier." Instead of hanging up the telephone, Branagh meets him and clinks glasses with Stephen Evans, who agrees to finance the Renaissance Theatre Company's production of Twelfth Night. When asked what's next, Branagh tells him he wants to direct and star in a film of Henry V.

January 1988 Branagh "slaves over a hot typewriter" writing the screenplay for Henry V, with detailed directions and easily broken down scenes to better help with budgeting.

February 1988 Judi Dench and Derek Jacobi agree to do the film. Casting proceeds while the RTC is rehearsing Much Ado About Nothing, which Dench is directing. Pat Doyle, who had scored the RTC's Twelfth Night, writes music for the actors of Much Ado, set in Sicily, to perform themselves. Doyle will score Henry V (and play Court) and go on to score Branagh's other films, including Much Ado About Nothing set in Tuscany, and Hamlet. Years later, Branagh will visit Doyle almost every day while Doyle fights and wins a battle with leukemia.

Winter/Spring/Summer--it's a blur. Between money meetings, Branagh does Benedick, and begins rehearsing the "most difficult" role of Touchstone for the RTC's As You Like It. Richard Easton plays Jaques, and Geraldine McEwan directs; Branagh finds Touchstone a tough cookie, but will shortly begin rehearsals for Hamlet, which Jacobi agreed to direct back in 1986. They both claim it was the other's idea.

The BBC's "Discovering Hamlet" is shot during the course of the Hamlet rehearsal, but at night, Branagh meets with designer Tim Harvey for the film; Harvey stays with Branagh in Birmingham to work out the plans. Harvey will go on to design Much Ado, Hamlet, and Branagh's own house "Keepers".

David Puttnam comes on board as Executive Producer, and financing is more or less complete (just a million pounds short now).

August 1988 Thames Water Authority field is scouted for Agincourt and "the world's longest tracking shot developing in the mind of Camberwell's Orson Welles." They will have to move the sheep and use smoke and fire to hide the fence saying "Please keep out, do not swim here."

As the RTC plays transfer to the West End in London, Puttnam tells Branagh that the money paperwork is "impossible". The film is doomed. Branagh ping pongs between utter depression and inspired euphoric movie-making details, as Evans pushes him forward. Sets--including Harfleur's wall--are being built. Branagh secures Paul Scofield and Ian Holm over tea. Shooting is to start on October 31.

October 21, 1988. A full read-through with the entire cast, which includes Brian Blessed as the Duke of Exeter, Richard Briers as Bardolph, and Emma Thompson as lucky Katherine. There are five people who have played Henry V themselves. David Parfitt plays a messenger, Branagh's godson Calum Yuill is cast along with his father, Jimmy Yuill, and John Sessions, both long-time friends of Branagh's. Christian Bale (just finished with Steven Spielberg's "Empire of the Sun") will be the boy who tends to Falstaff.

October 25, 1988. A short test with Branagh's stand-in, and Branagh needs to be poked in the ribs to remind him to shout, "Action!" He takes this to heart, and next time calls for action before anyone is ready. His own accounts of his lack of patience on set are borne out by a recurring phrase during filming: "As soon as we can." Branagh likes to galvanize action more quickly by using the "directorial bark," but also assumes a certain telepathy between himself and his cast and crew. For that reason, he finds working with familiar people helpful to him as a director.

Friday, October 28, 1988. The RTC's Hamlet--and with it the exhausting eight shows per week--closes at the West End. Henry V starts shooting Monday morning. Coming on the heels of that theatrical season, Branagh brings with him the attitude of everyone "mucking in." It is an approach to movie-making that he strongly believes in, and will maintain throughout his directing career.

October 31, 1988 The "baptism of fire" begins, and Branagh directs and acts on his first day. He finds himself nervous, and so grips Henry's throne with a vengeance. He has a van with a bed in it so he can sleep on his way to the studio.

November 1 Brian Blessed yells, "You can't direct for toffee, you big pouf!" and cracks up the entire set. Blessed will be Branagh's best man at his wedding to Emma.

November 2 Branagh reshoots the opening speech, making it "butcher," as in, more butch. The first go round had him an entire octave above normal. In later film and television interviews about being a first-time director, Branagh amusingly demonstrates this scared-to-death upper register with glee. (In falsetto) "I was rid-i-cu-louuuussss."

November 3 Blessed rips the chains from the necks of the conspirators. And tells Branagh, "Your direction's crap, Ken. Do you understand? Crap." (Blessed continues to consider Branagh as one of his very dearest friends, and invites him over to watch football (soccer) and call the plays in an amusing way.)

November 4 Despite (or because of) Blessed's ice-breaking comments, Branagh's film is running day ahead of schedule.

November 5 Branagh does his four-minute speech, "Upon the King". Later, Branagh decides it's not right, and will redo it.

November 6 Branagh eats chicken salad for lunch. What happened to bacon rolls?

November 7 Night shoot of Harfleur, call time 4 pm. for the director. Branagh gets a "butch" white horse, and Harfleur goes up in flames.

November 8 Branagh rallies his actors for another night of excitement and fun in a muddy field. Can you say, "band of brothers"?

November 9 A camera operator is thrown from a crane; he will recover, and the show must go on.

November 10 Branagh gets confused by the documentary camera for "A Little Touch of Harry"--The Making of Henry V. Which camera, love?

November 11 Harfleur rushes, with a feeling of World War I trenches.

November 12-13 Sleep.

November 14 Set up better lighting for "Upon the King" which reshoots tomorrow.

November 15 Prince Charles, patron of the RTC, shows up, and watches Branagh do the speech.

November 16 Branagh gains confidence with his successes. "The English camp sequence is finished. Stephen and Bruce are still pleased with the rushes. Something must be wrong. Disaster is obviously around the corner."

November 17 Bardolph dies, right in front of Henry's beleaguered band. Kinship before friendship. Brian Blessed explains, "If the king doesn't hang him--and this is one of his best friends--then someone like Exeter or Westmoreland would replace the king probably, with another king."

It rains--and rains--on the set, as it did in Adrian Nobles' stage version for the RSC. After speaking with Ian Holm, Branagh quips: "All right, roll--action--cut--print. What's that?" Straight-faced, he tugs off one of Henry's gantlets and checks an imaginary watch"--That'll be three minutes." A beige shearling vest covers his blue and red battle costume, and Branagh wears a warm brown cap, which covers the tops of his ears. He approaches ancient Pistol with some performance notes. "Ah, can I just say, *koff* the, ah, it could still take a little more pace . . . "

November 18 "Carry On Agincourt." Branagh constructs the Henry IV flashback scenes for emotional weight. Robbie Coltrane becomes Falstaff for a generation of film-goers.

November 19 Giggling actors at the Boar's Head: Briers, Dench, and Robert Stephens as the scalawag Pistol goof off, and Branagh, also known for corpsing (the uncontrollable giggles you get at the most serious moments), gets a taste of his own medicine.

November 20 Branagh tries to relax and live in the present on a Sunday. Which means he obsesses about everything, past and future. Some things never change.

November 21 Branagh himself becomes a bona fide Robbie Coltrane fan.

November 22 Branagh gets grouchy.

November 23 Derek Jacobi as Chorus, doing "a little touch of Harry" speech.

November 24 Reshoot of Mistress Quickly: not the performance, but technical difficulties. Many takes pay off with choice work from Judi Dench.

November 25 Thames Water Field turns into the field of Agincourt, with the help of a lot of trees. Avoid the pylons and the modern housing in the shot. And wait until the jets overhead pass on their way to Heathrow.

November 26 More Agincourt. Live sound and shooting without breaks. Stunt instructors give massive sword fighting lessons to goggle-wearing cast members, wielding sticks.

November 27 "Panic."

November 28 Time to shoot the battle itself. A "brutal, savage, scrum"--which is a rugby term for somewhere you don't want to be. Actors and animals and two camera crews try to make sure there are more English standing at the end than French.

November 29 Bow-legged after the previous day's horsing around, Branagh megaphones his way around the field.

November 30 Slow motion shots.

December 1 "Not content with the time-consuming demands of slow motion, I now wanted rain again. Brian Blessed and the rest of the English army were now getting used to this sadistic approach from their director. At the end of this week, they really did feel as though they'd been in a battle."

December 2 The aftermath of battle, the English dead, and the scene when the boys in the luggage are killed. Ian Holm, as the Welshman Fluellen, is a master of film technique. His school of acting: "Anything you can do, I can do less of."

December 3 Finish the listing of the French dead killed in battle, which of course, takes longer.

December 4 "Rest. Calm and contentment." Can you tell it's a Sunday?

December 5. The day of the long tracking shot. Here is what Branagh has to say.

"The greatest tracking shot in the world. That was my theory, anyway. It was certainly bloody long. After the close-up carnage of our Agincourt, I wanted to reveal as much of the devastation as possible. On our limited location we had not only built a 500 foot tracking platform, but Tim Harvey and his team had constructed a terrifying battlefield, where our 300 extras would mingle, wounded and dead, with horses and large numbers of dummy horses and people. To the accompaniment of a single voice starting the Non Nobis hymn, the exhausted monarch and his men would march the entire length of the battlefield to clear the place of the dead. As they marched, the music (provided on playback by Pat Doyle) swelled to produce a tremendous climax. There would be no question about the statement this movie was making about war.

"David Tringham (from Lawrence of Arabia) made this chaos work, and with our massive crowd and our remote control camera on its strange electronic arm, we began by 12:30 on that long day to start on the amazing shot. It was the last instance of my taking an inexperienced risk. Everyone had been suspicious that the shot would not work. We needed more coverage. Well, we did at least put another camera on the same track to gather close-up material, but I was convinced the whole thing needed the sweep that the main tracking shot could give it. After each take, during which I carried Christian Bale the length of the field, we would watch nervously the video playback facility which we had specially employed for the day. The quality was poor and we had no alternative but to keep going. The visibility on Trevor Coop's monitor set was so poor it was impossible to know what the remote control camera was picking up. Live, the action looked marvellous. As for the finished product, we would have to sweat.

"I arrived home exhausted and somehow defeated and, for no good reason, burst into tears.

I felt as if I had come back from the war."

December 6 The French army as they are about to attack-- like "Comanchees coming over the hill." Branagh is pleased that his generals don't look at all effete, like they do in Olivier's version of Henry V. Richard Easton, in heavy armour, gets helped into his saddle, and apologizes to his horse. "Poor old thing."

December 7 Shooting Chorus as he walks about the English camp at night, which means that Derek Jacobi taxis quickly back the Phoenix Theatre to perform in Richard II.

December 8 Branagh shoots Katherine and her gentlewoman: Emma Thompson and Geraldine McEwan, both "brilliant comediennes."

December 9 The French king arrives, and Branagh gets star struck over Paul Scofield and his regal frame and haunted face. "Brian Blessed broke up any potential for undue reverence with his midday yell across the floor after I had given him some notes as Exeter. 'You never give Paul Scofield any *bleeping* notes. You're just a bloody *bleep*-licker. You've destroyed my performance.' Scofield is "helpless under his crown."

December 10-11 Branagh turns 28, and is surprised with a birthday cake in the shape of the Harfleur wall, and two plates of shaving cream; the latter is not eaten.

December 12 The solemnity of signing the peace treaty between France and England falls by the wayside as giggling hysteria takes over. Scofield grabs Emma, points to Brian Blessed, and says, "Keep me away from that man."

December 13 Branagh woos Emma--no wait, Henry woos Katherine. Lord Snowden, photographer, is on hand. A complicated regal boy meets girl situation. Says Branagh, "In the space of one scene you have to believe that these two people can perhaps fall in love." Says Thompson, "Henry makes her laugh, and finally, she can't resist his personality."

December 14 Branagh begins to feel sad that the family feeling on the set will end, as shooting ends soon.

December 15 The last lines of the play are shot--and the set is full of emotion and good-byes. "It had been a glorious job and these last few days had been among the happiest I had ever known, either personally or professionally."

December 16 Location shoot at Beachy Head for Chorus. Branagh scraps an idea to include a soliloquy from Richard II.

December 18 The last shot filmed is the first in the movie: the tracking shot of Chorus, who strikes a match, and utters "O for a muse of fire. . . ." From the word go, Branagh wants to disabuse people of the notion that the film might be beyond their understanding. Chorus is meant to be an everyman, a timeless figure. Setting the tone of the film is critical. Branagh shows Jacobi just how to burst through the doors at the end of the opening speech: " . . . gently to hear, kindly to judge, our play--whoop!"

Branagh finishes shooting Henry V in seven weeks, one day ahead of schedule and under budget.

Shakespeare on film will never be the same.
Some quotations are from Branagh's book, "Beginning", St. Martin's Press, 1989. Branagh wrote it during the editing of Henry V. Other quotes and facts are from television interviews, documentaries, print interviews and articles about Branagh. Find print articles at The Kenneth Branagh Compendium at www.branaghcompendium.com.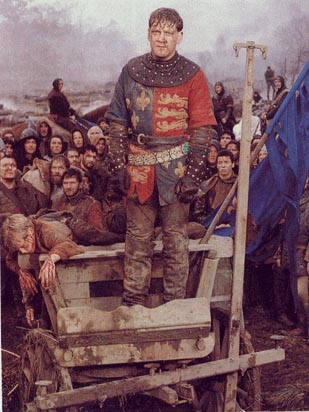 Part 1: The Story of Shakespeare's Henry V
Part 2: Behind the Scenes--Making Henry V
Part 3: The Director--From Front Room to Screening Room
---
---
News Release December 26, 2006
An Updated message from Don Baggs, one of the coordinators opposing the wind turbines near the fields of Azincourt.
"'On Tuesday 20th December 2005, the senior official of S.I.I.F. Energy responsible for the project visited my home to officially announce the final withdrawal of plans to install Wind Turbines at Azincourt.
He advised the reasons for his company's decision were twofold; firstly the close proximity of the Turbines to a very important Historic Site and secondly to preserve good relations with the English people and Associations who were against the project.
S.I.I.F. Energy also advised that M. Boulet, the Mayor of Azincourt, regretfully accepts the withdrawal of the project in his commune.' --Thierry Yverneau, owner of land nearby in Azincourt
May the next generations continue to enjoy the peace, tranquillity and serenity of this important 'untouched' historical site and learn more of this important era in Anglo/French/Welsh heritage at The Centre Medieval Historique in the village of Azincourt."
_________________________________________
From The Guardian, 5 April 2004
The New Battle of Agincourt
By Frederique Roussel
The English attack at Agincourt on October 25 1415, was unrelenting.  In this little Pas-de-Calais village of 290 souls, the English archers, led by Henry V, rained arrows upon the French knights and won a decisive victory in the Hundred Years War.  Nearly six centuries after the scenes that inspired Shakespeare, a new battle is being joined in the village of present-day Azincourt.  A plan to install four 80m-high wind turbines within sight of the battlefield is causing something of a stir.
"The English were on the left, towards Maisoncelles, and were heading for Calais when they came face to face with the French.  Although exhausted and hungry, they still won through, by firing off 10 to 12 arrows a minute."  Patrick Fenet has lived a stone's throw from the battlefield for 30 years.  He has soaked up the history of the area and quotes Shakespeare in the original.  A youth worker, he even gives lessons in the longbow, the legendary weapon of the Welsh archers. He is also one of the most passionate opponents of the project.  He points an accusing finger at the virtual masts, then the high-voltage pylons that have already been spoiling the scenery since 1983.  "One transgression doesn't justify another," he blurts out.  Fenet indicates, behind him, the last resting place of 6,000 combatants who might also be up in arms about it.
The bulk of the resistance to the wind farm, however, comes from Monmouth, the Welsh town where Henry V was born.  A petition, which considers that "it would be tragic if today's planners were allowed to desecrate the area, destroy history and ruin a key part of Anglo/Welsh/French heritage", has to date collected 600 signatures, 500 of them British.  It is hoped that Kenneth Branagh, an unforgettable performer of Henry V, may be enlisted in the crusade.
It was a landowner from Azincourt who, off his own bat, decided to offer one of his fields to SIIF Energie.  A subsidiary of Electricite de France, specialising in renewable energy, SIIF offers £3,2000 per wind turbine per year, over 15 years.  It plans to put four wind turbines on this site, the closest of which is more than a kilometre from the battlefield.  The town council has recommended the planning application and the process is now taking its course.
The battlefield itself, about 5 square kilometres, has no protection or conservation designation; just a sign saying, "You are on the battlefield of Agincourt."  Eighty percent of its 32,000 annual visitors are British tourists, tramping across and trying to imagine the clash of two armies that rainy day in 1415.  "They come to breathe the air breathed by their ancestors," says Claude Delcusse, director of the medieval centre.  "They come to see by what miracle a ragged band of English crushed the French nobility."  When it comes to the English opinion on the Azincourt wind farm, his tone is less affable.  "What's it got to do with them?"
(Thanks to Catherine)